A 15-year-old boy was brutally murdered as he tried to flee the aftermath of a birthday party that had spiralled out of control, being beaten and stabbed in three attacks.
Investigators are trying to establish why aspiring rapper Jordan Douherty was the only one injured out of around 200 teenagers who overran a 16th birthday party at the Clockhouse Community Centre in Romford on Saturday.
The youngster, who performed drill music under the name Young Valenti as part of a group called C17, was targeted by more than five assailants in three attacks, during which he was stabbed twice.
A massive crowd swarmed to a 16th birthday party being held at the community hall after the event was advertised on social media.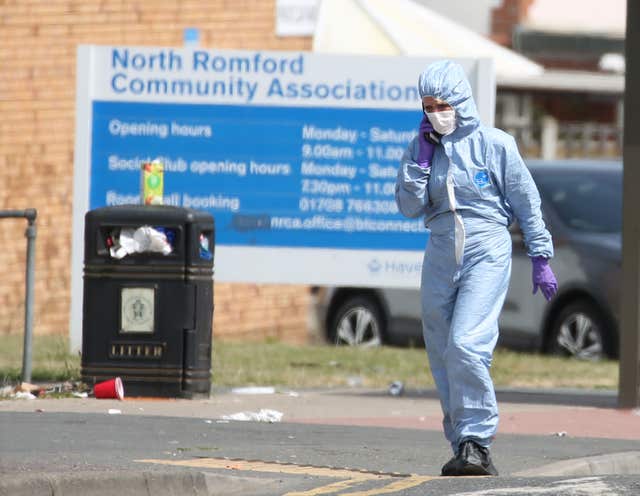 Jordan was fatally attacked between 9.20pm and 9.30pm.
Detective Chief Inspector Larry Smith told the Press Association: "As far as we're aware he's just a young man who's just turned 15, who's gone to the party of a 16-year-old girl and as a result of that he was brutally murdered.
"There's nothing to suggest his involvement in drill music was a motive.
"Really at the moment nothing to suggest any motive for the attack.
"Clearly there was something to cause the individuals involved to focus their attentions towards Jordan but at the moment we're unclear as to what that is.
"For some reason Jordan was the focus of their attentions.
"There were a number of other people there, but clearly they wanted to assault and seriously injure Jordan."
Jordan is the youngest victim among the nearly 80 homicides that have taken place in London so far this year.
He was involved in drill music, an urban genre laden with references to violence and often used by gang members to taunt rivals.
The Met recently sought a court order on five youths forcing them to inform police before recording or performing their music after issuing threats and inciting attacks in their songs.
Detectives investigating Jordan's murder are examining CCTV footage and have appealed to witnesses who filmed the fighting on their mobile phones to pass the footage to police.
Mr Smith said: "We've spoken to a number of people who were there, but we're appealing to everybody that was in the community centre, in the vicinity of Clock House Lane, a pedestrian or driving past, please contact us with details of anything you heard or what you saw.
"We're aware that people were videoing the events that evening, we're very very keen to see any product that people have.
"Someone will have seen Jordan being assaulted and stabbed, and we're appealing to those people to come forward and tell us what they saw, and who they saw do what.
Three teenagers, aged 15, 16 and 17, were arrested on suspicion of murder in the aftermath of the attack but have since been released under investigation.
Anyone with information can call police on 0208 345 3985 or Crimestoppers anonymously on 0800 555 111 or online.