World Cup penalty shoot-outs are usually England's downfall but the Duke of Cambridge showed he has the skills to help if needed.
With Harry Kane, the national side's star striker, looking down on him from a billboard, William blasted two out of three goals during a visit to an Israeli sports centre to learn about charitable organisations using sport for help Israeli youngsters.
With Israeli striker Tomer Hemed, who plays for Premier League club Brighton, also watching, the second in line to the throne joked: "I'm a defender – it's going to go up there in that tree somewhere."
His first strike was saved by a young goalie but the other two hit the back of the net and the duke, who is president of the FA and a keen Aston Villa supporter, celebrated.
The event at an outdoor pitch in Jaffa was staged by two charitable organisations: The Equalizer, which provides football training alongside education, while the Peres Centre, founded by former Israeli president Shimon Peres to promote peace, runs an initiative using sport to bring together Jewish and Arab communities.
Before he took his spot kick William told some of the charity supporters: "The potential of sport to bring people together is huge. I'm so pleased to see something like this."
The duke chatted to groups of young children who had been playing matches before he arrived and in the middle of one huddle he asked: "Any strikers?"
When one of the coaches pointed out a little boy a laughing William dubbed him "Harry Kane".
Before leaving the duke posed for a huge group photograph with all the children and was given two football shirts – one with "William 1" emblazoned on the back.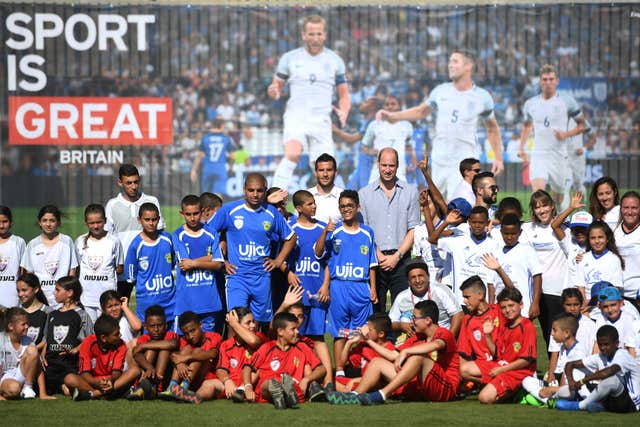 "It was a big honour to meet William, he told me he was a big football fan and we talked a little bit about England, they've had a very good start in the World Cup and I hope they will do well."