Fire chiefs have requested help from the Army to battle a vast moorland blaze which has raged for days.
Around 100 Greater Manchester firefighters are tackling seven separate fronts of fire in an area believed to cover 6km across moorland in Tameside after a number of homes had to be evacuated as a safety precaution on Tuesday night.
The task facing crews is frequently shifting as changes in wind directions create fresh problem areas amid the ongoing heatwave.
On Wednesday, Dave Keelan, director of emergency response at Greater Manchester Fire and Rescue Service (GMFRS), said: "We have been liaising with a military advisor on the scene and following those discussions we have requested military assistance from the Ministry of Defence.
"There's still a lot of smoke from the fire but air quality levels are being monitored regularly in different locations. Air quality is currently at a safe level and therefore residents have been let back into their homes.
"We don't know the cause of this incident at this stage and it would be very difficult to ascertain the cause due to the extent of the damage but we will be looking into that once we have tackled the fire.
"We've had a great deal of support from the public and charities – people have been donating supplies and we are really grateful, however, we really need people to stay away from the scene.
"Please listen to the advice and continue to follow official updates for the latest information."
That assistance could include the utilising of extra personnel, four-wheel drive vehicles and possible air support, said Mr Keelan.
Water firm United Utilities has provided a helicopter that can be used to drop water from height to areas of the fire that is difficult to access from foot while Derbyshire Fire and Rescue Service and the North West Ambulance hazardous area response team are also assisting.
Air quality levels in the area are being monitored regularly in different locations and air quality is at a safe level, with people in affected areas urged to keep their windows and doors closed, said GMFRS.
Experts warned that high levels of pollutants generated from the blaze, which started on Sunday, could have a significant effect on people's health.
Hugh Coe, professor of atmospheric composition at the University of Manchester, said plume peak concentrations were "very high" and air quality close to the fire was "very poor".
He said pollution plumes have been detected in the centre of Manchester.
Mr Keelan said: "We are working with our colleagues in health and we are sampling the air to make sure it is within those safe limits, and we will be informing people in local areas if there is any concern or we need them to do anything in particular."
Brenda Warrington, leader of Tameside Borough Council, said: "I think it's fair to say the air is not toxic but it is tremendously irritiating.
"We have no idea how long this situation will continue because it's the weather conditions that will determine that and will dictate to us.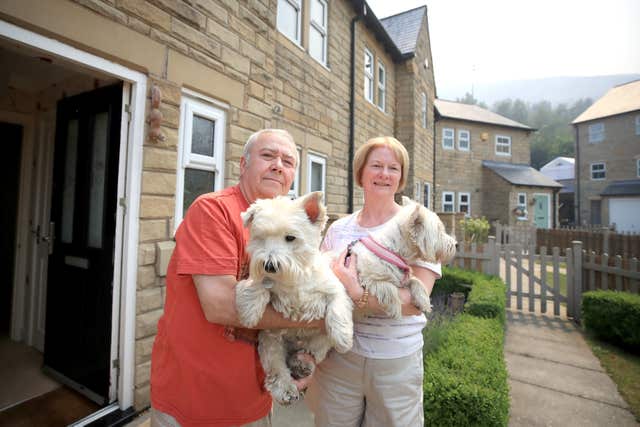 Four local schools decided to close on Wednesday for the safety of their pupils.
Among the affected areas is the village of Carrbrook, in Stalybridge, where 34 households in the Calico Crescent area were evacuated on Tuesday night when strong winds pushed flames near to their properties.
Sue McDowell and her husband Peter had to grab a few possessions and their beloved West Highland terriers and pet cat after being told by police and the fire service to leave their home.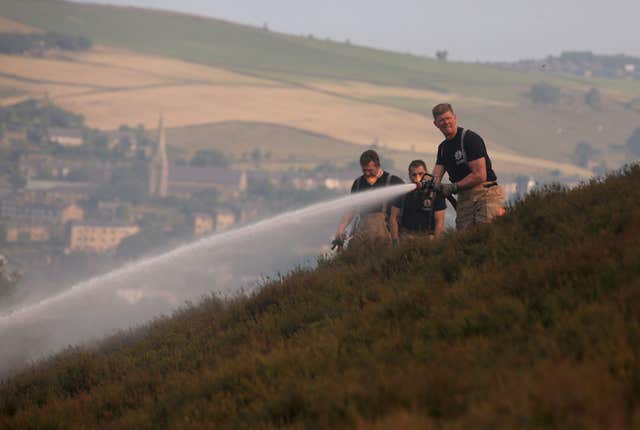 "Around 9pm fire engines and police all turned up. We just grabbed whatever we and could got out. It was scary."
All those affected stayed the night with either family or friends but continue to wait for the authorities to assure them it is safe to return home.
The cause of the original seat of the fire – thought to be at Buckton Hill, which is land above Buckton Vale, Carrbrook – has not been established but fire chiefs said a detailed investigation would be launched at the appropriate time.
One possible line of inquiry could focus on the frequent gathering of off-road bikers – many not displaying registered plates – at a nearby large quarry.