The Duke of Cambridge has met Israel's 2018 Eurovision Song Contest winner ahead of a highly anticipated meeting with Palestinian Authority president Mahmoud Abbas.
William chatted to Netta Barzilai, whose success has made her an international star overnight, when he visited one of Tel Aviv's most famous streets.
They stopped at the whitewashed Espresso Bar, which was the first coffee kiosk built in Tel Aviv in 1910.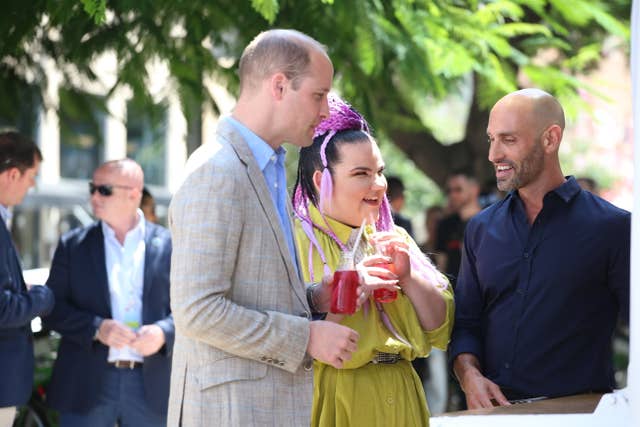 Netta's song Toy, a quirky electronic tune that featured a routine dubbed the chicken dance, won Eurovision and its success has earned the singer a recording deal with a major record company.
As they left, the singer handed the duke a carrier bag of goodies and she was warmly thanked by William.
He was heard to say: "You want me to be a singer? I can't sing a note. If you heard me sing you wouldn't want that!"
When asked if the duke had been enjoying himself in Tel Aviv, the performer replied: "Yes, he said he was enjoying it very much."
Later William will meet Mr Abbas, a day after Israel's president urged him to take a "message of peace" to the Arab leader.
After meeting Israel's prime minister Benjamin Netanyahu and the country's president Reuven Rivlin on Tuesday, William will have the opportunity to get to know the Palestinian leader during their discussions at his office.
President Rivlin asked William to encourage the Palestinian Authority president to take the "first step" with Israel to end the "tragedy" between them, which has existed for more than a century.
The head of state's comments have drawn William into the politics of the region and given the remaining days of his historic Middle East tour greater importance.
In a speech made on Tuesday, William said: "This region has a complicated and tragic history – in the past century the people of the Middle East have suffered great sadness and loss.
"Never has hope and reconciliation been more needed. I know I share a desire with all of you, and with your neighbours, for a just and lasting peace."
Commenting on the Israeli president's request to William, Britain's ambassador to Israel David Quarrey said: "I don't think that the duke will be bringing a particular message to either side.
"But I think he'll be very interested in hearing from each side what they think they can do, what they think can be done more generally to move us out of the current situation and move us towards peace.
"We've obviously got a very strong interest in seeing progress from where we are now but I don't think the duke will be taking a particular political message."