Glasgow School of Art's Mackintosh building is to be partially demolished on safety grounds after it was gutted by a second devastating fire.
Flames tore through the famous Charles Rennie Mackintosh-designed building two weeks ago and spread to nearby properties including the O2 ABC.
It came amid a major restoration project inside the Mackintosh following a large fire in 2014.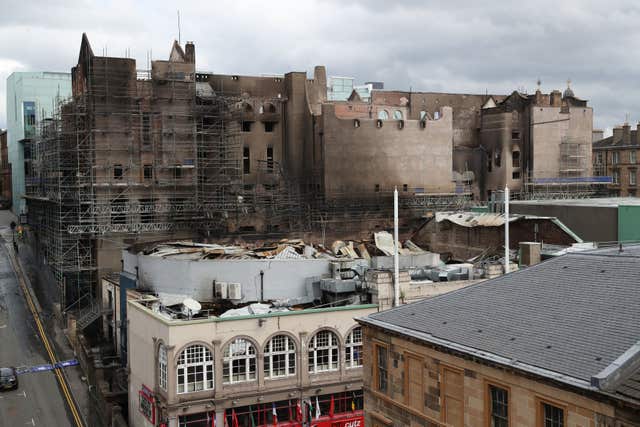 It was found that a sudden collapse of parts of the building "is likely, rather than possible", and demolition work is expected to start in the coming days.
Experts said the south facade is the most seriously affected part of the building, while the west gable end has continued to deteriorate and the east gable has continued to move outwards.
Raymond Barlow, the council's head of building control, said: "This building has undergone substantial stress in recent days.
"With each passing day a sudden collapse becomes more likely. It has become urgent that we take down the south facade.
"As the process begins it will be likely that the other walls will also need to be reduced.
"We do not know what effect this will have on the rest of the building so I have to be clear this site remains dangerous and is becoming more dangerous.
"It is particularly important that people observe the cordon which remains in place."
A spokeswoman for Glasgow School of Art said detailed assessments of the building had revealed "significantly greater" damage than had initially been anticipated.
She added: "The Glasgow School of Art's site contractor Reigart, together with its structural engineers David Narro Associates, are using all this information to develop a plan of works to achieve structural stability of the building.
"Due to the condition of the Mackintosh Building this work will be undertaken in a highly controlled way to minimise any potential risk of failure and be sufficient to achieve structural stability of the Mackintosh building."