A Belfast victims campaigner has lost his High Court challenge to the Northern Ireland Secretary over her power to decide when a border poll can be called.
Raymond McCord took a judicial review, arguing that the current criteria for calling a referendum on Irish unity is too vague and left at the secretary of state's "unfettered discretion".
The absence of a defined policy could lead to political instability, it was argued at a previous hearing.
Under the terms of the 1998 Good Friday Agreement Secretary of State Karen Bradley can call a referendum if she believes the majority of people in Northern Ireland no longer want to remain part of the UK.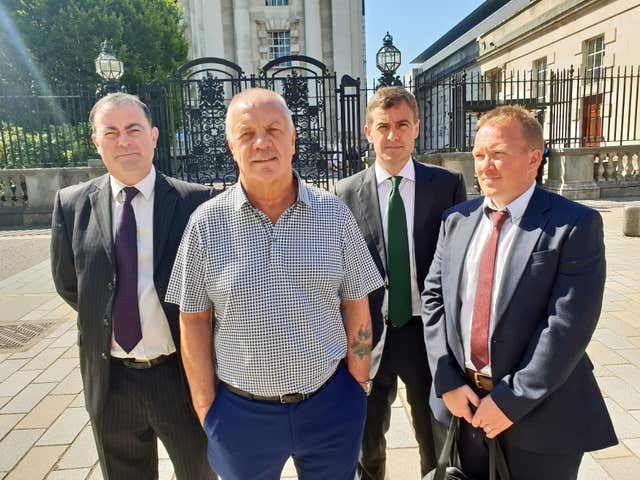 Mr Justice Girvan said he was "unpersuaded by the argument that the Secretary of State be bound by a policy" on what he termed a politically sensitive issue.
Delivering his judgment, Mr Justice Girvan described the decision to call a border poll as a "complex political decision".
He dismissed the challenge, holding that there is no legal obligation on the minister to have a defined policy in place.
Mr McCord, an outspoken critic of loyalist paramilitaries since a UVF gang beat his son Raymond Jr to death in 1997, believes authority for calling such a significant ballot should not rest with one individual.
"The precise circumstances and the political context of a decision are variable and highly political," Mr Justice Girvan said.
"Decision-making in this area requires a political assessment on the part of the Secretary of State and in this context political flexibility and judgment are called for.
"In such a context I am wholly unpersuaded by the argument that the Secretary of State is bound to be bound by a policy detailing the way in which that flexible and politically sensitive power is bound to be exercised."
Mr Justice Girvan added: "In essence it must be for the Secretary of State to decide what matters should be taken into account on the political question of the appropriateness of a poll."
Speaking outside court, Mr McCord expressed disappointment at the outcome, but vowed to fight on.
"I am disappointed in the result, but I'll keep going," he said.
"For me, it's about taking politics out of the border poll, and putting policies in because quite clearly the border poll is being abused.
"And I'm disappointed in what the judge said, but we'll appeal it."
Mr McCord is also challenging the Irish Government over its lack of policy on holding a border poll.
That is set to be heard in Dublin on July 3.
"The Irish Government also has no policy. Here, we are being told the policy is down to the Secretary of State, and I am saying it can't be just down to the Secretary of State. There has to be policies put in place," Mr McCord said.
"Take the orange and green out of politics and have proper policies, that's what the democratic system is all about."