Zookeepers at Dublin Zoo are treating the animals to ice-lollies and mud baths to help them cope with the soaring temperatures.
As the heatwave continues, elephants, rhinos and tigers are among some of the animals cooling down with custom-made frozen treats made from fruit, meat, vitamins and fish.
While some of the animals' natural habitats are in warmer climates, many of them are not used to the long period of high temperatures sweeping Ireland.
Gerry Creighton, Operations Manager at Dublin Zoo, said that extra observation of the animals is needed during the hot weather.
"In some cases we make up fruit pops, which is made with fruit and Vitamin C drinks," he explained.
"We give the tigers frozen meat in their pool, and for the elephants we brought in ten tonnes of mud clay which works like a face pack.
"We also have fire hydrants to cool down the habitats and wet the animals down in the mornings before they go out.
"They love it, it's a novelty factor for the animals – it doesn't cause them any stress."
Animals have the choice of spending time outside in the sun or keeping cool in their air-conditioned houses which are also designed to create shade.
Pachyderm animals, like elephants, rhinos and hippopotamus cool down in mud baths and use mud on their skin to act as a sun repellent.
Gerry added: "The big cats will submerge in the water, we give fish ice-blocks to the sea lions, and they try to break it down.
"It's all activity based and everyone has an option. The snow leopards have rocks in their habitats that provide cooler areas.
"The keepers check on the animals to make sure they're okay and have plenty of water and plenty of shade."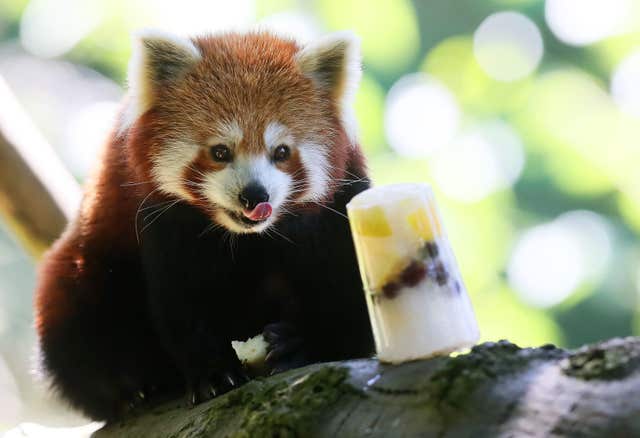 She explained that contrary to belief, tigers "love" water and will often chase their prey into water.
"As it is such a warm day we decided to give Max a little dip in the pool," she said.
"We feed them every Monday, Wednesday and Friday so we broke his food into chunks and put them into the pool so he can swim about and cool off.
"When the meat goes to the bottom of the water he will scoop the meat up without putting his head into the water.
"During the winter he gets a very thick coat but he has lost all of that. There's so many trees and shade in his habitat, so he's getting a breeze coming from the park which keeps him nice and cool.
"He would be used to high temperatures in his natural habitat and on hot days tigers like to spend a lot of time asleep and in the shade chilling out."
Also cooling down nearby in a giant mud wallow is 42-year-old Sam, one of the oldest rhinos in Dublin Zoo.
Kenneth Mackey, a rhino keeper, said the mud wallow is made from topsoil with lots of minerals.
"Sam will wallow in it and coat themselves in the mud which acts as a sun repellent," he said.
"Rhinos also exfoliate, so they coat themselves in the mud and scratch against walls, rocks or logs.
"Old age for rhinos is between 45 and 50 years so Sam is moving into old age.
"We keep him on his own every third day and then he spends time with one or two females who he gets on really with.
"He can't run with the other herd, in particular the other male as he's a lot younger and stronger and could intimidate him.
"Sam likes the quiet life."