Britons look set to enjoy the hottest temperatures of the year for the fourth day in a row this week, with the mercury predicted to soar to 32C (89.6F).
While the heatwave is forecast to continue, Thursday is likely to see the end of the steadily increasing temperatures, the Met Office said.
Highs across the UK topped 30C (86F) on Wednesday, and Wales, Scotland and Northern Ireland all enjoyed their hottest days of the year so far.
Porthmadog in north-west Wales had the overall high with 31.9C (89.4F).
The north-west of England and western parts of Scotland could vie for that title on Thursday, with a chance the mercury will rise to 32C (89.6F).
"Last year for England there was a warm spell where they had five days over 30C but what makes this current spell different is that it's nationwide," meteorologist Bonnie Diamond said.
Easterly winds will bring temperatures down slightly but the weekend and into the early part of next week promises to remain sunny and warm, she said.
She described a forecast earlier in the week for thunderstorms as looking "less likely".
"It's staying sunny and warm and dry for most (into next week)," she said.
"There is a small risk of seeing some showers developing in the far south-west but otherwise it will be dry."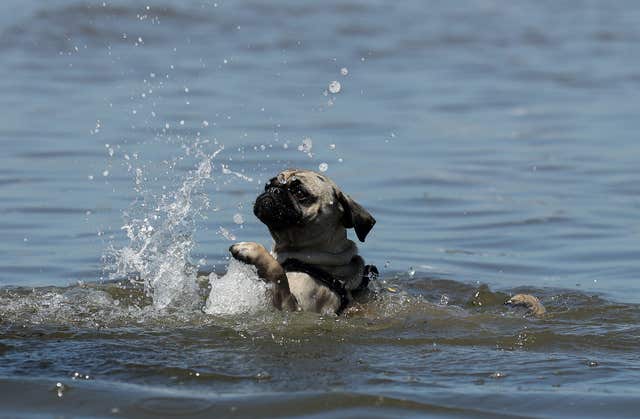 Public Health England has issued a warning saying the extreme heat may pose a risk to the most vulnerable.
The rising temperatures have come with warnings to be careful near water and in the countryside, where fire crews have been tackling wildfires.
The heat has already claimed casualties – a 17-year-old boy was found dead in the River Aire in Leeds in the early hours of Wednesday morning following a search and rescue operation.
It is believed he got into difficulties while swimming on Tuesday evening.
Elsewhere the body of 13-year-old Ryan Evans, who went missing on Monday after getting into difficulty in Westport Lake in Stoke-on-Trent, was recovered from the water.
The body of a man was also recovered from a lake in Nutfield, Surrey, on Monday.
The RNLI has urged those heading to the seaside to seek out beaches with a lifeguard.
Fire chiefs said the situation could go on for weeks, that a wind change could provide more fuel for the fire, and that a "significant downpour of rain" is needed.
A number of homes were evacuated and pockets of fire continue to burn across an area of around 3.7 miles (6km), Greater Manchester Fire and Rescue Service said.
The RSPCA called on pet owners to keep a close eye on their animals in the heat after receiving 625 calls about animals in hot environments between June 11 and 24 – the majority about dogs in hot cars.
Commuters have endured delays after rail services were forced to impose speed limits due to overheating tracks.
Network Rail's extreme weather action teams are being activated across the country to monitor "vulnerable locations".
Network Rail said hot weather can cause the steel on rail lines to expand, and in some cases buckle, causing travel disruption.
Slower trains exert lower forces on the track, reducing the likelihood of buckling.
South Western Railway said track temperatures were expected to reach 47C (116.6F) on many parts of its route this week.
Services on the London Waterloo to New Malden line are being subjected to speed restrictions from 11am each day until Friday.
And while the mercury continues to rise in the UK, England's World Cup team will also have to contend with warm conditions in Russia as they take on Belgium in the final group game.
The Met Office forecasts the temperature for Thursday's game at the Kaliningrad stadium to be 22C (71.6F).