One of Britain's F-35 stealth fighter jets has taken off from its UK base, marking the maiden flight of the multimillion-pound aircraft since they first touched down in the country.
Four of the supersonic warplanes, which had been based at US Marine Corps Air Station Beaufort, South Carolina, crossed the Atlantic earlier this month to become permanently stationed in Britain.
One of the jets took off from RAF Marham on Thursday, marking the first time the aircraft had become airborne in the weeks since they landed on UK soil on June 6.
The officer commanding 617 squadron, Wing Commander John Butcher, said the first flight was a "great step forward", and that the jets in the skies above Norfolk will be an "increasingly familiar sight".
Speaking to the Press Association he said: "I am looking forward to hearing how that went when I get back to base today.
"But I know the aircraft took off and landed safely, and now we just need to see how the processes (that) are in place (work) now that we have done one flight.
"We need to make sure the engineers are going through the correct processes, we need to make sure the logistics and supply chain are there and in place to support us.
"And we need to make sure that any outstanding actions that may have come from this first flight are covered off. So it could still be a few more days before we fly again."
Wg Cdr Butcher said the plan for the first flight was to "stay mainly local", so that the systems could be checked, and the performance of the aircraft could be observed.
Asked why it has taken three weeks to get from the initial UK landing to the first flight, he said that "in big handfuls" acceptance checks on the jets have had to be carried out.
"We have had to move them across from the American electronic servers across to ours, and do all of the data checks and make sure all of the data is there from an airworthiness perspective, to then verify those and accept them on to the squadron," he said.
"We have had some bits of missing data during that transfer, so we have been working through that.
"But, this is all business as usual for us.
"None of it is anything that we didn't plan for in terms of contingency, so we have been working through those in a methodical fashion to make sure that we can get the jets into a serviceable state to take them flying in a safe manner."
The UK's £9.1 billion programme to buy 48 of the F-35s, the world's most advanced fighter jet, over the next decade, has come under fire over capability and expense.
Reports have suggested that the effective cost of each plane is as much as £150 million when logistics and support are taken into account.
Five more UK F-35 are also expected to arrive from the US at RAF Marham by the end of July or beginning of August.
Britain currently has 15 F-35Bs – the short take off and vertical landing variant of the jets – and has pledged to purchase 138 in total from American Aviation giant Lockheed Martin.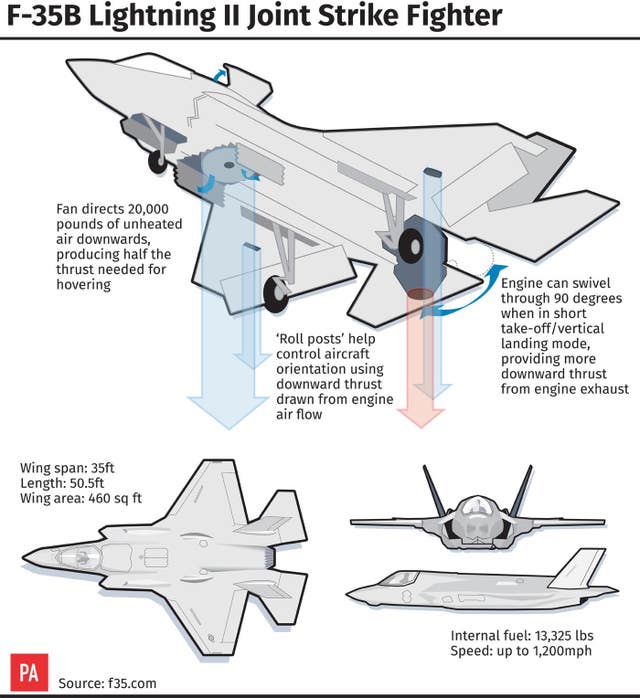 Since their arrival, 617 squadron are now working towards declaring initial operating capability from land by the end of December.
Wg Cdr Butcher said it has been "really fantastic" to be back at RAF Marham, and said the base is "absolutely" ready for the jets to be there.
"RAF Marham has done a lot of work to get itself ready to receive us, and now that we are there as a squadron and a formed unit, with our own jets there is a very different feeling… to the week prior to us landing," he said.
"The station has very much come into focus, they can see the aircraft out on the flight line being worked on by 617 squadron engineers, and we are in our operating environment… there are many positive elements to us now finally being at RAF Marham."