Theresa May has hailed the award of a £20 billion contract to the British defence giant BAE Systems to build a new generation of warships for Australia.
BAE will supply nine Type 26 submarine hunter ships for the Royal Australian Navy under the terms of a 30-year contract.
Although the ships will be built in Australia, the Prime Minister said the export of a British design for the frigates would be an "enormous boost" for the UK economy.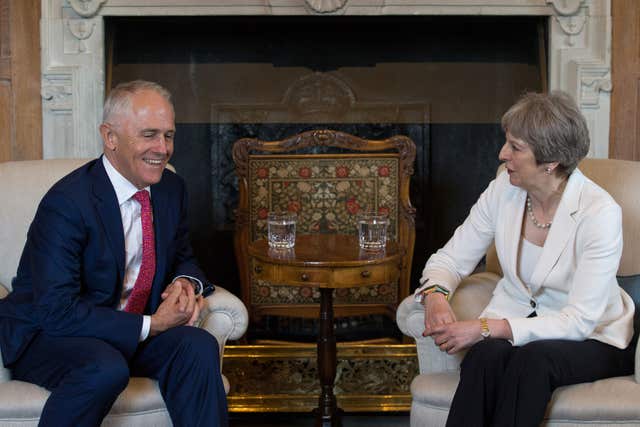 The award of the contract comes after four years of high-level engagement by the UK, with Mrs May raising it at talks with Australian Prime Minister Malcolm Turnbull at Chequers earlier this year.
Foreign Secretary Boris Johnson, Defence Secretary Gavin Williamson and International Trade Secretary Liam Fox have also visited Australia over the course of the last 18 months to expound the benefits UK's design and engineering.
Mrs May said: "The sheer scale and nature of this contract puts the UK at the very forefront of maritime design and engineering, and demonstrates what can be achieved by UK industry and Government working hand-in-hand.
"We have always been clear that as we leave the EU we have an opportunity to build on our close relationships with allies like Australia. This deal is a perfect illustration that the Government is doing exactly that.
"While this is an enormous boost for the UK economy, it will also cement our strategic partnership with one of our oldest and closest friends for decades to come."
BAE Systems chief executive Charles Woodburn said the selection of the company as preferred tenderer reinforced its position as a "leading designer and builder of complex maritime platforms".
"I am proud that our world-class anti-submarine warfare design and our approach to transferring technology and skills to the nations in which we work is expected to contribute to the development of an enduring world-class naval shipbuilding industry in Australia," he said.
The announcement came as welcome relief to Mrs May, who has had to deal recently with a public hammering from Airbus, BMW and business groups over her Government's handling of the Brexit negotiations.
Shares in BAE were up by more than 1% following the news.
The deal is the second major coup for BAE after the defence giant bagged a 198 million US dollar (£150 million) tank contract with the US Marine Corps last week.
The deal will see BAE deliver an initial 30 "amphibious combat vehicles" with options for a total of 204 tanks, which could be worth up to 1.2 billion US dollars (£909 million).
Earlier this year, it was announced that the UK Government will stump up £900 million for BAE to press ahead with the second phase of construction for four nuclear-armed Dreadnought submarines.
Gary Cook, Scottish chairman of the Confederation of Shipbuilding and Engineering Unions, said: "The inconvenient truth is that we're not exporting ships, only manufacturing jobs that should be going to British shipbuilding communities.
"Had the UK Government and BAE invested in the promised frigate factory at Scotstoun, those frigates could easily be built here.
"Instead, there is a rubble pile where that factory should be while 4,000 jobs and significant prosperity will be enjoyed in Australia and not the UK."