Ireland's Taoiseach has said the UK should have come up with a Brexit plan two years ago.
Leo Varadkar said Europe was beginning preparations for the "unlikely" possibility of a no-deal withdrawal and warned any future relationship would not be one of absolute equals.
He attended a summit of the European Council in Brussels with fellow leaders and said: "I think it would have been helpful if they had had that white paper two years ago.
"You would have thought that before people voted to leave the European Union they would have an idea what the new relationship would look like but I appreciate that that hasn't happened, and two years later it still hasn't happened."
Mr Varadkar urged Britain to soften its negotiating red lines and show flexibility.
"It needs to understand that we're a union of 27 member states, 500 million people. We have laws and rules and principles, and they can't be changed for any one country, even a great country like Britain.
"Any relationship that exists in the future between the EU and the UK isn't going to be one of absolute equals: we're 27 member states, the UK is one country, we're 500 million people, the UK is 60 million.
"That basic fact has to be realised and understood."
He also said Ireland will not make preparations for a hard border on the island but will begin planning at its ports and airports.
The Irish premier said it was a possibility that the UK would "crash out" of the EU customs union and single market without an agreement, with time running out.
Earlier, Dutch Prime Minister Mark Rutte said the Irish border had to be the "first, second and third priority" in the Brexit negotiations and the UK needed a permanent border backstop plan.
The Taoiseach addressed the impact of a no-deal Brexit at the ports and airports.
He said: "Other countries are going to be doing it too, it is not just an issue for Ireland, it is as important an issue in Rotterdam or Calais or the ports of the Netherlands, Belgium or France.
"So, we have to start making preparations for that, even though it is a very unlikely scenario, any responsible government has to make those preparations."
The future of the Irish land border is one of the most vexed issues still facing negotiators in Brussels ahead of next year's divorce.
The Irish premier reiterated that he was not preparing for any sort of physical border between Northern Ireland and the Republic, and trusted the assurances of the UK and the EU that that will not happen.
"However, if we have a no-deal Brexit, and that is unlikely but possible, then the UK will essentially crash out of the customs union and the single market will not be able to trade freely any more with any part of the EU including access to a European market of 500 million people.
"That would require us to make preparations in our ports and airports for that kind of scenario, and that is the kind of thing that we will be doing."
Mr Varadkar said the EU was willing to be more flexible in negotiations.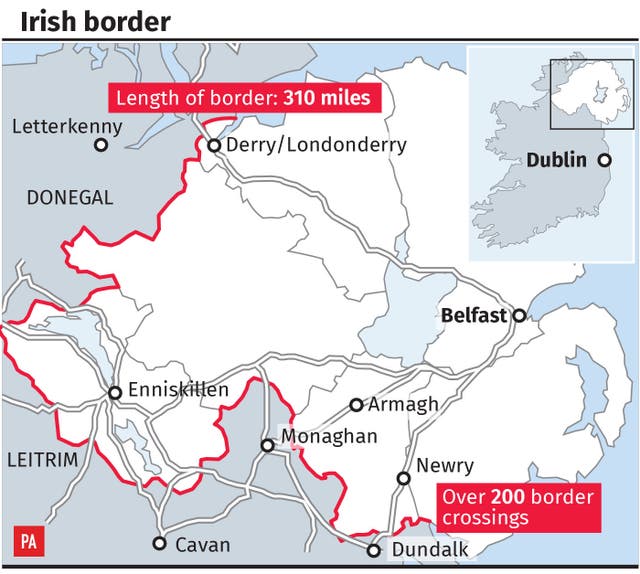 "There are things we just cannot compromise on, the four freedoms and the single market have to go together.
"You cannot have one freedom or two freedoms or three-and-a-half freedoms because if we were ever to agree to that, the EU would start to break up, and that is something we cannot ever contemplate."