The Duke of Cambridge has said the Palestinians "have not been forgotten" after a historic meeting with their leader Mahmoud Abbas who reaffirmed himself to peace with Israel – but only under a "two-state solution".
Speaking at the end of a day where he experienced the extremes of life on the West Bank – from a refugee camp to a proud display of cultural identity – he said he shared the desire of Palestinians and Israelis for a "just and lasting peace".
Mr Abbas had welcomed William to his offices in Ramallah, the first time a member of the royal family had officially visited the Palestinian Occupied Territories.
The two men sat down for talks a day after William was tasked by Israel's President Reuven Rivlin with taking a "message of peace" to Mr Abbas, in a bid to rekindle relationships with the Arab leader.
But it is unlikely William repeated the words of the Israeli president – his comments were widely reported and the royal had his own agenda of listening and learning from both sides about issues surrounding the search for peace.
In his comments to the duke, Mr Abbas, the Palestinian Authority president, reaffirmed his "full commitment to achieving a full and lasting peace based on a two-state solution where the state of Palestine lives side by side with the state of Israel, with both supervising peace and security".
He went on to say: "I hope this will not be the last visit… that your next visit will be in the state of Palestine when we have our full independence.
"Your royal highness, your visit to us will deepen and strengthen the ties between our two peoples.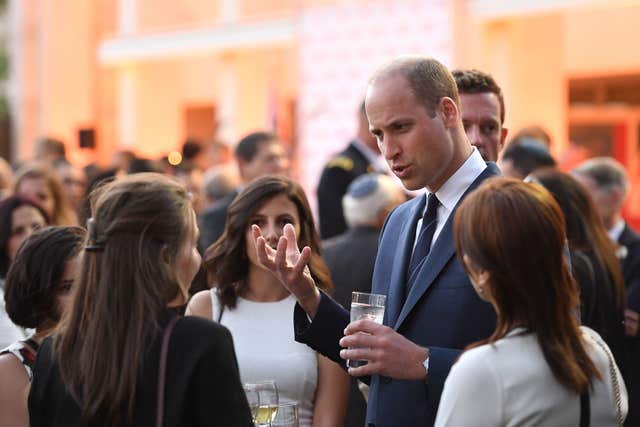 The symbolism of William's presence on the West Bank spoke volumes as he not only visited the Jalazone refugee camp – where violent skirmishes between Israelis and Palestinians are almost daily – but Ramallah to enjoy the dancing, food and arts of Palestinians who feel they are marginalised.
In a speech at the residence of the British Consul-General in Jerusalem, the duke told an invited audience of leading Israelis and Palestinians: "I saw at Jalazone the tremendous hardships faced by the refugees, and I can only imagine the difficulties of life lived under these conditions, the limited resources and the lack of opportunity."
He added: "Never has hope and reconciliation been more needed. I know I share a desire with all of you, and with your neighbours, for a just and lasting peace."
William concluded with the words: "My message tonight is that you have not been forgotten. It has been a very powerful experience to meet you and other Palestinians living in the West Bank, and to hear your stories.
"I hope that through my being here and understanding the challenges you face, the links of friendship and mutual respect between the Palestinian and British people will grow stronger."
A source described William's discussions with Abbas as: "Very good, warm.
"There was talk about how it has been a long time coming and there was a lot of talk about young people, how young the population was in Palestine and how you inspire hope in such a young population."
The duke's speech was warmly welcomed by Palestinians, including a group who had travelled from Gaza to tell him about their lives.
"He addressed us as Palestinians in the consulate of Her Majesty in East Jerusalem," said guest Maged Abu Ramadan.
"It will be very impactful on ears, hearts and minds.
"The misery in Gaza is a feeling of being abandoned, a feeling of being orphans.
"To have a member of the royal family to take the time and make the effort to remember us and tell us 'you are not left alone' is very important."