Arlene Foster has questioned why there is excitement about the resurrection of a governmental forum for Anglo Irish co-operation, again dismissing it as a talking shop.
The Democratic Unionist leader insisted the British-Irish Intergovernmental Conference did not have any decision-making powers.
Mrs Foster was asked about the move to reconvene the controversial body later this month as she visited Theresa May at Downing Street.
"As we have always said it's a talking shop," she said.
"I know others portray it in a different way but again it's important that you go back to what the intergovernmental conference is around.
"It's talking about East/West matters, it doesn't have any executive functions.
"I think that's important, it doesn't have any executive functions and while others might wish it to have executive functions, it doesn't, it's a talking shop."
During talks at No 10, Mrs Foster and deputy leader Nigel Dodds urged the Government to step in and take more decisions in Northern Ireland amid the ongoing powersharing impasse.
They said Mrs May was considering a "range of options" through which that could happen.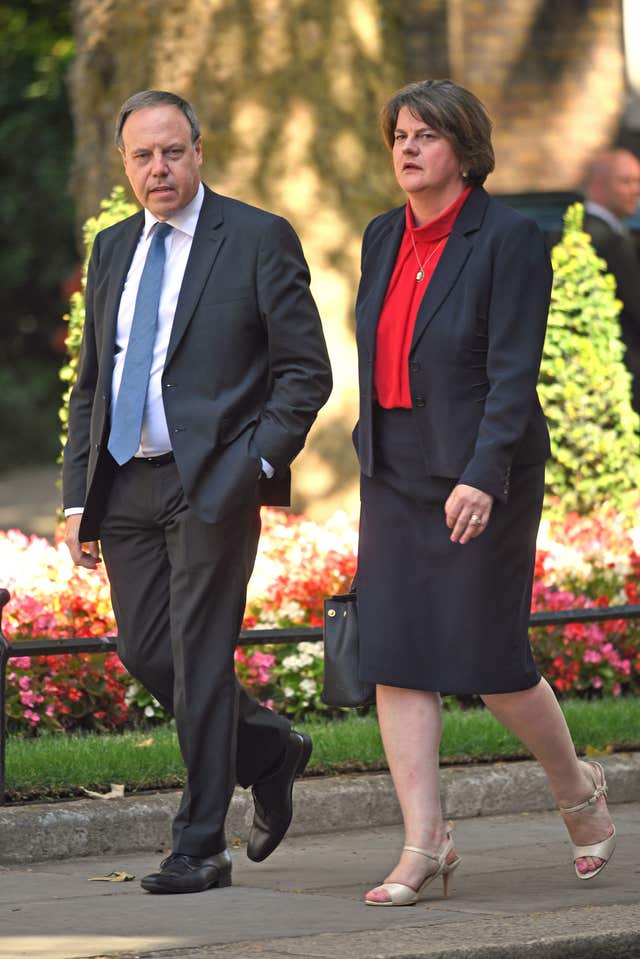 Mrs Foster said the implementation of that spending was also on the agenda during Monday's meeting.
"I think everyone is crying out for decisions to be taken in Northern Ireland so it is good to hear that the Prime Minister is looking at a range of options in relation to those matters," she said.
The UK and Irish governments announced last week that the British Irish Intergovernmental Conference will reconvene, 11 years since its last meeting.
The conference is to meet in London on July 25, 18 months after devolved government imploded in Belfast.
The mechanism gives the Irish a consultative role on non-devolved issues affecting Northern Ireland.
It last met in 2007.
The prospect of a return of the forum has proved controversial.
Sinn Fein and the SDLP have long been calling for its re-establishment as a way to inject fresh impetus into the stalled political process in the region.
But unionists have been wary amid concerns of handing too much influence to the Dublin government.
Outside Downing Street, Mrs Foster again questioned the forum's worth.
"I know everyone is getting very excited about it but I'm sure that there will be other things that have come around that look much more exciting on the 25th of July," she added.
While the Cabinet Office did not mention the powersharing impasse last Thursday in a statement announcing the initiative, instead describing the focus as "East West issues", Ireland's deputy premier Simon Coveney said "NI issues" would be on the agenda.
Cabinet Office minister David Lidington and Northern Ireland Secretary Karen Bradley will attend.
The Irish government will be represented by Mr Coveney and Justice minister Charlie Flanagan.
On Friday, Taoiseach Leo Varadkar suggested the conference format could be expanded in the future and act as a means to consolidate UK/Irish relations post-Brexit.