A three-year-old girl who was fatally thrown from an inflatable trampoline on a beach had been visiting the area with her family, police said.
The youngster, who has not been named by police, was injured in Gorleston-on-Sea, Norfolk, on Sunday morning.
Norfolk Police said the child, from Suffolk, was with her mother on the beach.
"I'm very sad to report that a three-year-old girl was injured in that incident and subsequently died in hospital.
"The witnesses report a loud bang before the incident but we don't know at this stage what caused the trampoline to apparently burst and that's the purpose of the investigation that we will be undertaking over the next day or so."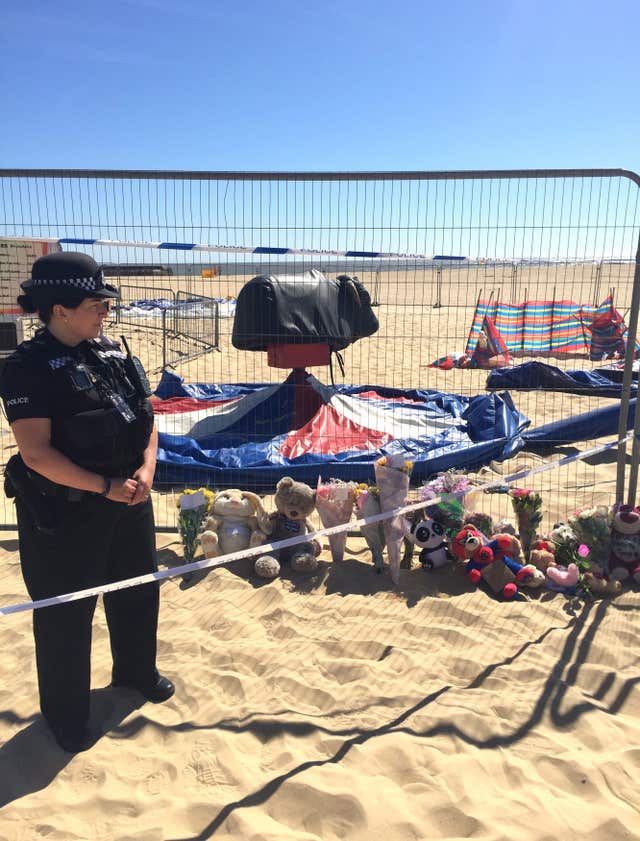 Police said experts from as far afield as Wales were assisting with the investigation, and a cordon is likely to remain in place until Tuesday evening.
Supe Wiltshire said the incident was "just unimaginable".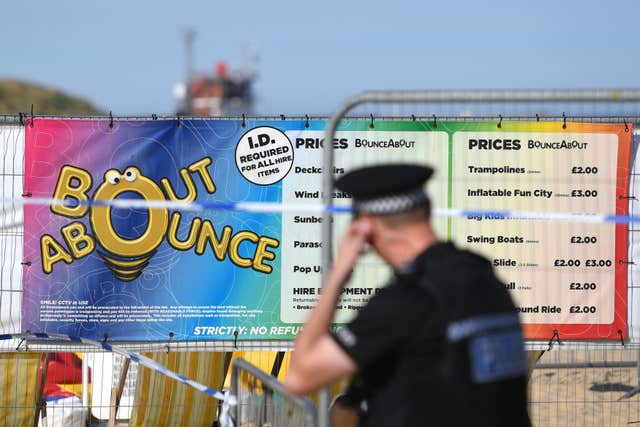 "You come to a seaside town like Great Yarmouth and Gorleston for a day out, don't you, and as a dad, you know, we've spent many hours standing by a bouncy castle watching the kids jump up and down.
"It's just unimaginable."
He said that the attraction was licensed.
Tributes including teddy bears and bunches of flowers have been piling up against a metal perimeter fence encircling an area of the beach where the deflated inflatable was still in place on Monday morning.
A uniformed officer placed tributes brought to the scene behind police tape.
One tribute read: "Taken too soon. Thinking of all your family. Such a sad loss. Sleep tight angel."
A second said: "Rest in paradise little one X"
Norfolk Police said officers were called to the scene at around 11.15am on Sunday and a joint investigation with the Health and Safety Executive (HSE) and local council is under way.
A Home Office post-mortem examination was due to take place on Monday to determine the cause of the girl's death.
Any witnesses to the Gorleston incident who have not yet spoken to the police, or anyone who may have captured the incident on their phone or camera, is asked to call Norfolk Police on 101 or Crimestoppers on 0800 555 111.