Young adults are spurning cigarettes, new figures suggest.
New Office for National Statistics data shows that the largest reduction in smoking prevalence since 2011 has been noted among 18 to 24-year-olds.
Last year 17.8% of people in this age bracket said they were current smokers, the ONS said.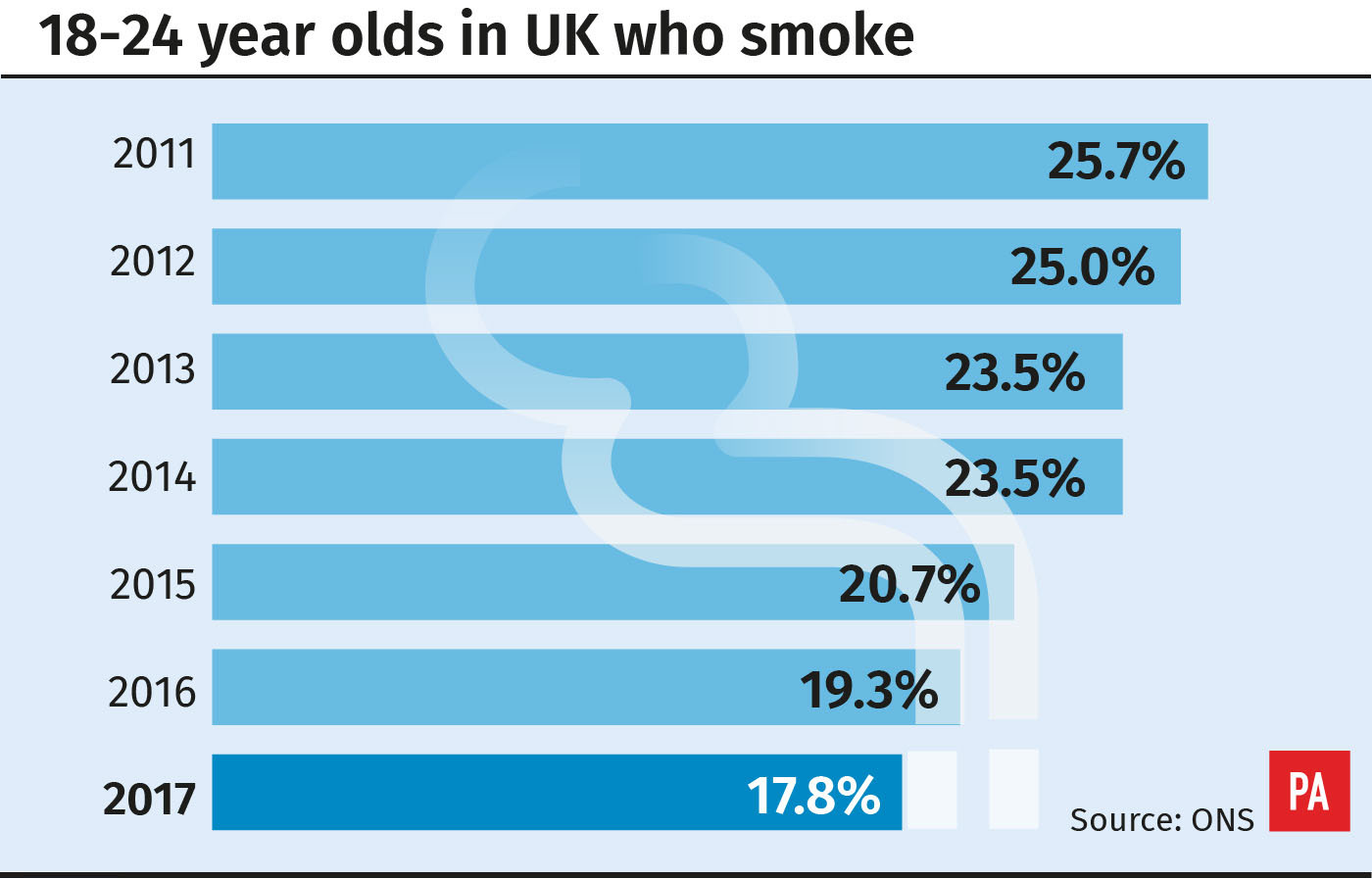 Across all age groups the number of British smokers has "significantly" fallen since 2016, the figures show.
Overall 15.1% of Britons – or around 7.4 million people – were smokers in 2017.
The new ONS report on adult smoking habits in the UK states: "The latest figure represents a significant reduction in the proportion of current smokers since 2016, when 15.8% smoked."
Public Health England (PHE) said the figures show that the nation is "winning the war on tobacco".
Meanwhile, the report also shows around 5.5% of people use electronic cigarettes, or e-cigarettes.
While a significant rise from 2014 when just 3.7% of people were 'vaping', the figure represents a slight dip from 2016 when it stood at 5.6%.
The rate of smoking was higher in Northern Ireland compared to the rest of the UK – 14.9% of adults in England smoked; for Wales, this figure was 16.1%; Scotland, 16.3% and Northern Ireland, 16.5%.
Across the whole of Britain more men than women are smokers – in 2017, 17% of men smoked compared with 13.3% of women.
Smoking rates were highest among people aged 25 to 34 with almost one in five (19.7%) of people in this age group classing themselves as current smokers.
Commenting on the figures, Duncan Selbie, chief executive of PHE, said: "Smoking rates have dropped by almost a quarter in five years, a triumphant step in eliminating the nation's biggest killer.
"The data shows we are winning the war on tobacco and that we are tantalisingly close to creating the first-ever smoke-free generation in England.
"But that war will only be won if we make more progress in helping people from deprived areas and people suffering from poor mental health, where we know smoking rates remain stubbornly high."
Deborah Arnott, chief executive of health charity Action on Smoking and Health (Ash), said: "Ash supports the Government's vision, set out in the Tobacco Control Plan for England, of a smoke-free generation.
"But smoking must become history for all of society not just for the wealthy.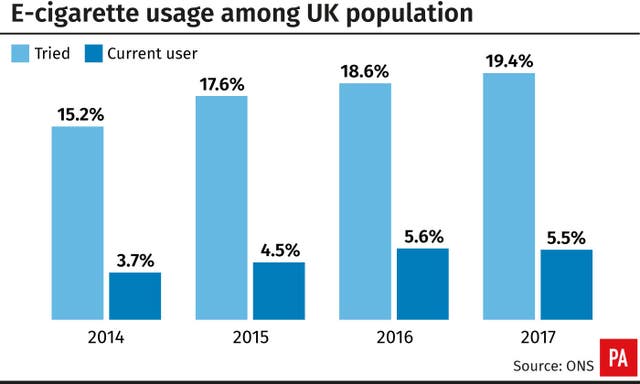 Alison Cook, director of policy at the British Lung Foundation, added: "It's encouraging to see smoking rates dropping significantly in the UK, but we must not be complacent."
Simon Clark, director of smokers' group Forest, said: "Far from being a public health success story, the recent decline in smoking rates represent a victory for the bully state.
"Instead of focusing on education, successive governments have chosen to denormalise a legitimate habit."