Counter-terrorism police are investigating after a couple were left in a critical condition when they were exposed to a mystery substance.
The pair, in their 40s, were found unconscious in a property in Muggleton Road, Amesbury, Wiltshire, on Saturday.
A meeting of the Government's Cobra emergencies committee took place at official level on Wednesday morning to discuss the events and a second meeting was taking place that evening to update senior Whitehall officials.
"Ministers and the Prime Minister are being kept updated and there was a meeting this morning of officials to receive updates on the facts of the situation."
Wiltshire Police initially thought that the couple had taken contaminated crack cocaine or heroin, but then decided to carry out further tests and on Wednesday declared a major incident.
It is understood that tests are being carried out on the substance at the Government chemical weapons research laboratory at Porton Down.
The Metropolitan Police, who lead the national counter-terrorism network, said in a statement: "Given the recent events in Salisbury, officers from the counter-terrorism network are working jointly with colleagues from Wiltshire Police regarding the incident in Amesbury.
"As Wiltshire Police have stated, they are keeping an open mind as to the circumstances surrounding the incident and will update the public as soon and as regularly as possible."
The man and woman from Amesbury are in a critical condition in Salisbury District Hospital.
It is believed that one of the last places they were seen in public was a family fun day at Amesbury Baptist Centre on Saturday afternoon.
The church is one of a number of locations in Amesbury and Salisbury which has been cordoned off by police.
Church secretary Roy Collins said: "Last weekend we held a community fundraiser and we understand this may well be the last event this couple went to in public.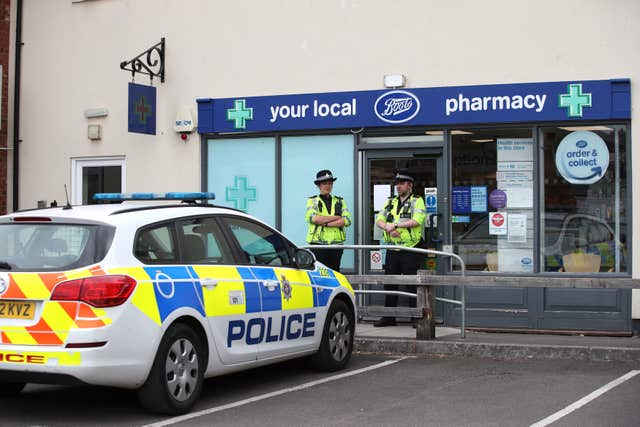 "We are praying for the couple. One of our members knows them and clearly there are concerns for them and any others in the community.
"They are not church members or regulars."
Mr Collins said around 200 people attended the event, including many families and children, but "nobody else has suffered any ill-effects".
Public Health England (PHE) said it did not believe there to be a "significant health risk" to the wider public, although its advice was being reviewed.
Neighbours living near the scene were keen to find out more about what had happened to the couple.
College student Chloe Edwards described seeing police cars, fire engines and people in "green suits" on Saturday night.
"We saw everything," said the 17-year-old, who lives near the cordoned-off flat.
"We were just eating our dinner and all these emergency vehicles turned up.
"They were putting on these green suits and we thought it was the gas as our electricity was turned off as well."
She said the vehicles arrived at about 7pm and she and her family were told to stay inside their home until about 10pm.
"I am not sure how long they were in there but we couldn't get out of the house for two and a half hours."
A support unit from Dorset and Wiltshire Fire and Rescue Service went to the scene on Saturday, but the Swindon crew tweeted on Sunday that the incident "wasn't serious and our decontamination shower wasn't required".
Justin Doughty, who lives opposite the police cordon, said residents wanted more information about what was happening.
"We don't know, to be honest now, because is it linked to Salisbury or is it drug-related?" he said.
"None of us is being told anything by the police and it would be nice to know something.
"We would have thought the police would have been more forthcoming and keep us in the loop."
Salisbury District Hospital is "open as usual" and officials advised people to attend routine appointments unless they are contacted to do otherwise.
Mr Skripal, 67, and his 33-year-old daughter were left in a critical condition after they were found slumped on a bench in Salisbury city centre on March 4.
They spent weeks in Salisbury District Hospital, where they underwent treatment for suspected exposure to the Russian-created nerve agent Novichok.
The British Government has accused Russia of being behind the attack on Mr Skripal, who settled in the UK after a spy swap.