Wounded veterans are carrying out dives on the wreck of a battleship as part of efforts to protect the site, government heritage agency Historic England said.
HMS Montagu was launched in March 1901 and grounded on rocks around the Isle of Lundy in the Bristol Channel in thick fog on May 30 1906, due to a navigational error while undertaking secret radio communication trials.
She could not be saved and was broken up and salvaged where she lay on the rocks.
Now six veterans supported by Help for Heroes, the charity that helps British service personnel and veterans wounded in the line of duty and their families, are taking part in dives to the wreck to determine what remains of it.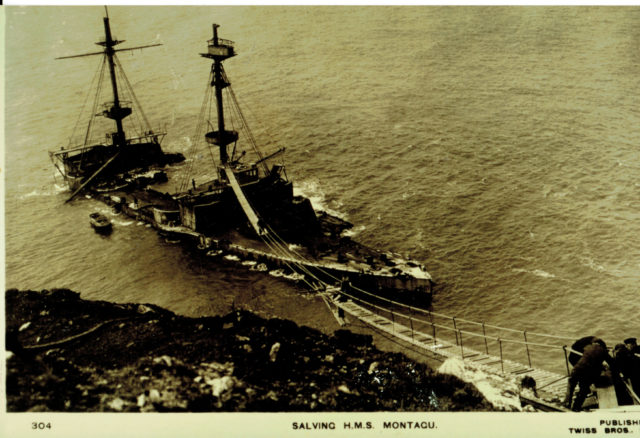 The underwater survey work led by Wessex Archaeology is providing archaeological and historical data that Historic England will use to decide whether it recommends to the Government that the site should be protected.
Andrew Phillips, one of the Help for Heroes divers involved, said: "For me diving is the only place I am out of pain following my spinal injury in Gulf War One.
"As soon as I'm under the water I'm pain free and this is great physio. I love diving and here, with the seals and wildlife, it's difficult to beat."
Another diver, Sasha Bamford, said: "I hope to learn new skills during this project. I like working under water, I feel at home, safe under water and relaxed.
Diving allows veterans who are physically injured to feel weightless under water, and those with mental health wounds "to be able to forget their troubles for a while", said Jock Easton, from Help for Heroes.
Heritage minister Michael Ellis said: "This project is a great initiative that will help wounded veterans, who have sacrificed so much, on their road to recovery."
It is also an important step in understanding more about the wreck of the HMS Montagu, he said.
Duncan Wilson, chief executive of Historic England, said: "These dives help to develop the personal strengths and capabilities of all those taking part and will provide Historic England with the vital information that we need to determine how best to protect the wreck."