David Cameron was among the spectators enjoying a sun-soaked day at Wimbledon as temperatures soared.
The former prime minister was seated in the royal box at the All England Lawn Tennis Club while, 33 miles away in Buckinghamshire, his successor Theresa May hosted crunch Brexit talks at Chequers.
Temperatures were as high as 24C (75F) at SW19 by 10am and hit 30C (86F) at 4pm on Friday, leaving spectators sweltering.
Members of the Centre Court crowd were spotted cloaking themselves in scarves in a desperate bid to shield from the glaring sun, while on the outside courts umbrellas were popped up to provide respite.
There were queues for water fountains and visitors were seen clinging to patches of shade across the site as they took a break from the action.
Some fans had dressed to reflect the tropical temperatures, including a trio of men wore shirts printed with bananas, pineapples and watermelons, with matching hats.
Meanwhile in Chequers, Cabinet ministers have gathered for a meeting over Britain's future relations with the European Union, expected to last at least 12 hours.
They will be asked to approve a plan which could see the UK sign up to EU rules on agriculture and food, potentially making it much harder to strike a post-Brexit trade deal with the US.
But it was not just politicians taking up the famous seats on Centre Court.
Broadcaster Sir Michael Parkinson, ex-rugby player Brian O'Driscoll and golfer Sergio Garcia were also there.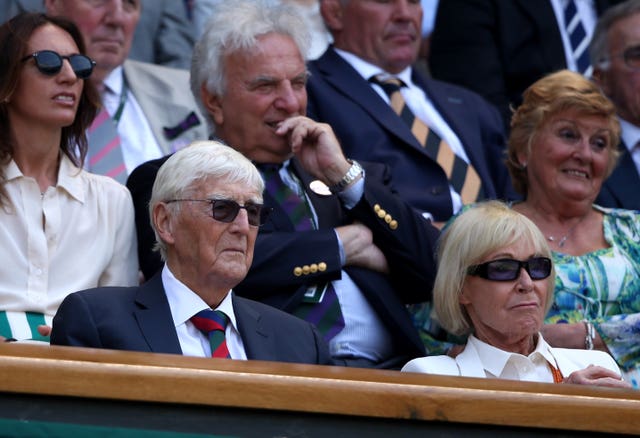 The Met Office said temperatures at Wimbledon, where Britain's Kyle Edmund will face Novak Djokovic, could reach 32C on Saturday.
Alan Weir, head of clinical operations at St John Ambulance, said: "As many will be planning to enjoy the outdoors this weekend, we want people to recognise symptoms early on and take prompt action.
"Heat exhaustion and heat stroke are the most serious problems and are often indicated by headaches and dizziness.
"The first priority is to get anyone showing these signs somewhere cool and rehydrated as soon as possible."
Eight-time champion Roger Federer was playing last on Centre Court on Friday, taking on Germany's Jan-Lennard Struff.
Also in action was Serena Williams as she continued her campaign to win her first Grand Slam since the birth of her daughter nine months ago.
The American was facing Kristina Mladenovic, of France, in the second match on Centre Court.