A great-grandmother who used a wooden back scratcher to help force a burglar out of her home has been praised by police.
Joyce Ross bravely confronted the intruder, who broke into her property on Denmark Street, Byker, Newcastle upon Tyne, on Monday evening, Northumbria Police said.
The force revealed how the 73-year-old heard the man entering her ground floor flat through her unlocked front door at around 6.15pm.
The pensioner then armed herself with a back scratcher and urged the man to get out and, after 15 minutes, she was able to force him from her home.
Joyce, who has lived at the property for 18 years, said: "At first I picked up my butter knife but he pushed that away, then I got my phone and told him I was calling the police but he just slapped it out my hand.
"That is when I picked up my back scratcher and tried to hit him."
The pensioner said a scuffle ensued between the pair, at which point she hit her head on a door frame and sustained a small cut.
She added: "Eventually I managed to push him out. I think it was a sigh of relief when he did finally leave. I don't know what had come over me.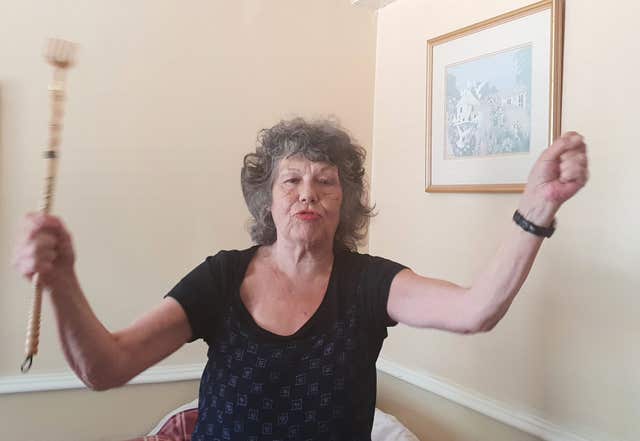 The great-grandmother-of-four discovered a short while later her canvas handbag had been taken from the home, and police are still trying to trace the burglar, described as a white man of thin build, around 6ft 2in tall and possibly in his early 40s.
Detective Sergeant Tony Scott, of Northumbria Police, said: "Joyce showed great courage to stand up to the man and force him from her home. We are making sure she is safe and supported but I want to praise her for her actions.
"We would never advocate people to confront a burglar but Joyce kept her composure and removed an opportunist thief from her home."