Downing Street is engaged in efforts to win over Tory Eurosceptics after Theresa May put forward plans for Brexit that would keep the UK closely tied to Brussels.
The Prime Minister's inner circle is trying to secure support for the proposals to create a new UK-EU free trade area for goods, with a "common rulebook".
Cabinet Brexiteers have already been persuaded to support the plans after a marathon session of talks at Chequers on Friday, but backbench Eurosceptics have expressed grave doubts.
Full details will be published in a white paper on Thursday, with Brussels expecting a round of negotiations in the week commencing July 16.
Jacob Rees-Mogg, leader of the influential European Research Group of pro-Brexit Conservative MPs, warned that a common rulebook could make "trade deals almost impossible" if it meant regulations would have to apply to any goods coming into the UK.
He added that "it is possible that this deal is worse" than a "no deal" Brexit.
"As with eggs: An egg that is very softly boiled isn't boiled at all. A very soft Brexit means that we haven't left, we are simply a rule-taker," he told BBC Radio 4's Today programme.
"That is not something that this country voted for, it is not what the Prime Minister promised."
Backbencher Andrea Jenkyns said she was "awaiting the detail" of the plans before deciding whether to support calls for a leadership contest.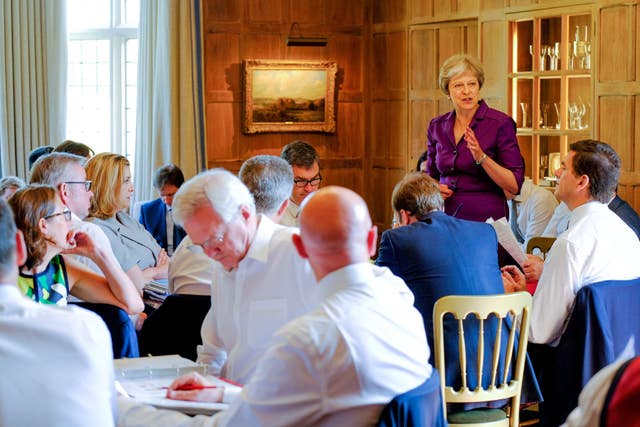 The first briefing was led by Chief Whip Julian Smith and the Prime Minister's chief of staff Gavin Barwell, with 10 Tory MPs attending the Saturday morning session.
James Cleverly, a deputy chairman of the party, said: "I went in there with some concerns as a Brexiteer and I come out with those concerns addressed."
He said the briefings "will massively calm the nerves of people who have been basing their views on the speculation that has been floating around in the media and social media".
Morecambe and Lunesdale MP David Morris said the package was "realistic" and Brexiteers now had to be "grown up" about it.
Vicky Ford urged colleagues not to get "hot under the collar" until they had seen the details.
The Prime Minister has told her Cabinet that collective responsibility rules are now being fully applied, meaning she will not tolerate criticism of what has been agreed.
Cabinet Brexiteers defended the plans in public, with Transport Secretary Chris Grayling saying: "I didn't campaign to leave the European Union to have a different specification of motor car on sale in the UK to the one that's on sale in France.
"This is simply saying that we will effectively sell the same products across Europe as we do now – it's what business does and would do anyway, nobody produces a different product for one country."
Asked what the common rulebook with the EU on food products would mean for the proposed US trade deal, Mr Grayling told Today: "There may be individual issues to address in future trade talks."
Commons Leader Andrea Leadsom said: "As a passionate Brexiteer with huge optimism about future as a free trading nation, I agree with the PM that keeping the UK together is vital."
Business Secretary Greg Clark, one of the Cabinet ministers favouring close alignment to limit economic damage, welcomed the "very positive" outcome.
Pro-EU Tory Anna Soubry said she would "always welcome" a policy that delivers a "business friendly Brexit", adding that she had "no doubt" the Prime Minister would now enforce Cabinet discipline.
Under the Government's plans the UK would be free to diverge from EU rules over services, a major part of the British economy, with ministers acknowledging this will reduce the levels of access available to European markets.
Free movement would also end, although the proposals include a "mobility framework" to ensure UK and EU citizens can easily travel to each other's territories and apply to study or work.
Brussels will be reluctant to support any plan which would risk splitting the single market, and ministers appeared to acknowledge this by agreeing to step up preparations for a "no deal" Brexit.
But Mrs May said she hoped the proposals, which will be produced in a formal white paper next week, would enable talks with the EU to move forward.
The European Union's chief Brexit negotiator Michel Barnier said he was looking forward to the publication of the white paper and the EU would consider whether the proposals are "workable and realistic".
Taoiseach Leo Varadkar spoke to Mrs May about the plans on Saturday.
He said he "welcomed proposals from British Government which can input into talks on the future relationship".
"Await detail in white paper late next week before agreeing an EU position," he said.