Travelling England fans' expectations skyrocketed after the Three Lions blasted their way into a first World Cup semi-final in 28 years.
There were pockets of empty seats in the spaceship-inspired Samara Arena as England powered to a 2-0 victory over Sweden.
But the travelling support were relentless, singing and cheering throughout the game on a delirious high after so many years of hurt.
Peter John-Baptiste, 48, from Harrow, north-west London, was at Italia 90 that last time England made a semi-final.
He said: "How does it feel – fantastic, we're in a World Cup semi-final for the first time in 28 years.
"It's my seventh World Cup and I'll be honest I can't believe this. I never expected this at the start of the tournament.
"To be honest for a quarter-final we were quite comfortable and I wasn't expecting that because Sweden area always tough.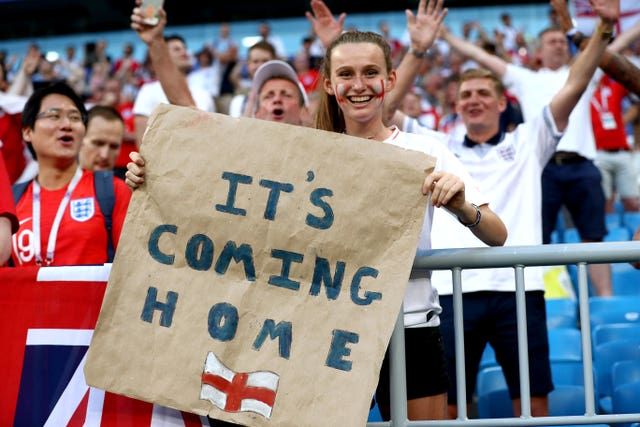 Terry Shepherd, 65, from Stockton-on-Tees, in County Durham, was in the stadium with his son Lee, 33.
He was 13 when England last won the World Cup and he said he believes this team could achieve the same.
He said: "We've had so many disappointment over the years, especially in big tournaments.
"This is absolutely fantastic – I think they can actually go all the way.
"I think I'd rather play Russia to be honest. Croatia are very technically gifted and could be a very difficult opponent on the day."
Lee, who is originally from Stockton-on-Tees but now lives in Korea, said: "There weren't too many heart-in-the-mouth moments, compared to the Colombia game, so I'm pumped.
"I've been to a few World Cups since 2006 and unfortunately England never does that well, so it's really exciting to see them get through to the semis.
"First time I've seen them get there."
Scott Kynnersley, 37, from Crewe, said: "Amazing – it doesn't get better. Even at 0-0 and 1-0 you could not see them scoring.
"We were always going to win the game but now we're there it's just relief, isn't it?
"I think Croatia will be the tougher game but I think it might be a more safer game.
"We don't fear Croatia or Russia and the final is a one-off game, so it's a lottery."
After Harry Maguire powered England into the lead, supporters were bouncing in the stands as Baddiel and Skinner and the Lightning Seeds' Three Lions (Football's Coming Home) pounded over the stadium sound system.
As of Friday, official Fifa ticket sales for the game stood at 32,000, meaning it was feared there could be as many as 10,000 empty seats at the 42,000-seat stadium.
Officially, England fans made up 2,836 in sales and Sweden fans numbered 3,078 – but actual numbers appeared higher and fans were seen buying tickets outside the ground and city centre beforehand.
The official attendance was read out over the PA system as 39,991 – just a couple of thousands short of capacity.
England fans partied in the streets of the city as Russia supporters flooded the fan zone and bars, crowding around televisions and dancing.
Rob Dutton, 24, from Whitchurch, in Shropshire, said: "It's once in a lifetime.
"Probably not going to see it happen again, best chance you're ever going to have of seeing England in a World Cup final."
Giles Thorne, 53, from Nottingham, said: "Well we're going to go all the way now, aren't we? Unbelievable, we haven't had this for how many years?
"This is the one now, isn't it. It's ours to lose now. There's no big teams left. It's our year.
"I'm going to Moscow on Monday, I'm here for the week and hopefully flying home Tuesday with the cup."