Nadine Hanlon did not let renewing her wedding vows stop her from watching England's World Cup quarter-final victory, saying: "I love the man, but football comes first."
Wearing a full wedding dress, Mrs Hanlon, 43, and husband Lee, 40, were joined by their family and friends for a traditional wedding breakfast in Doncaster, with a big screen showing the match right next to the top table.
The couple and the rest of their wedding party celebrated England's first goal as they watched the first half of the game in the bar at the Regent Hotel in the town centre.
But they started their wedding breakfast during half-time, so watched the second half on a big screen and cheered England's 2-0 victory during the main course.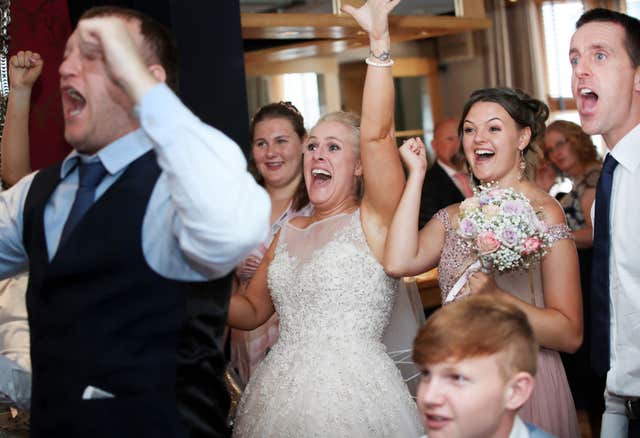 "The boys are bringing it back home.
"I knew they were going to win, I have faith."
Asked why she was determined to screen the match during her special day, she said: "Because I can't function without watching the game. I love the man, but football comes first."
Football-mad Mrs Hanlon happily showed guests the Arsenal tattoo she has on her leg.
She said: "It's the wrong shaped ball, he's a rugby guy."
The couple celebrated their 21 years of marriage with a ceremony in Bolton-on-Dearne, South Yorkshire, before moving to the reception at the Regent Hotel.
They were joined by their three children, Rhyce 25, Alyx, 20, and Summyr, 16.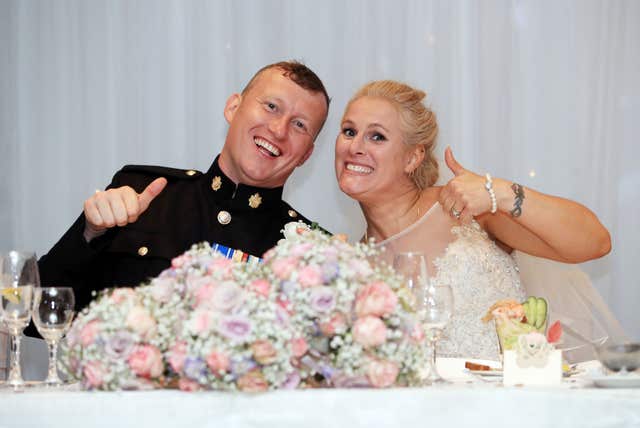 Mr Hanlon, who serves with 7 Regiment Royal Logistics Corps, is originally from Thurnscoe, South Yorkshire.
The couple now live in Rutland.