England's quarter-final triumph against Sweden stole the spotlight from the tennis at Wimbledon, where the last Brit standing in the singles competition crashed out.
Kyle Edmund had hoped to bring a second dose of patriotic success when he took on Novak Djokovic on middle Saturday, shortly after the final whistle blew in World Cup clash.
But the 23-year-old could not emulate England's triumph and lost 4-6 6-3 6-2 6-4 – despite a loud home crowd on Centre Court repeatedly urging him to "bring it home".
A steady stream of fans left the All England Lawn Tennis Club (AELTC) in London in the early afternoon to catch the football, including many who had queued for hours and some with prime seats on the tournament's show courts.
Pubs in Wimbledon were rammed with spectators from SW19 – easily identifiable with their pink and blue re-entry wristbands – while those who chose to stay on site gathered around iPads and phones to live stream the game.
Edmund admitted he had been "keeping an eye" on the score as he waited to step on Centre Court, but said tennis had been his "priority".
Sir Bobby Charlton, who was part of the winning squad in 1966, was among those invited to the royal box on Saturday, along with sporting stars Dame Jessica Ennis-Hill, former cricketer Andrew Strauss and boxer David Haye.
Haye admitted he would be one those juggling the tennis and football ahead of the game.
"I'll try, I dunno how," he said ahead of the game. "We're going to do it, we're going to do it."
Chris Yates, 30, and Craig Pett, 27, both from Portsmouth, left Wimbledon at around 2pm to watch the football, despite having queued for ground tickets at 7am.
They went to collect a "pass-out" wristband which allows re-entry from security staff soon after arriving on site.
Mr Yates, wearing a red England shirt, said: "The woman at the gate, she called it the football band rather than a pass-out band."
Charlie Smith, 26, from south London, and Danny Miller, 29, from Kent, both sporting England football shirts, said Wimbledon organisers should have put the match on a big screen.
"It's a bit gutting," Mr Smith said.
"But I understand it. If I was the manager of a Wimbledon I would do the same thing."
In the Rose and Crown in Wimbledon village there were chants of "get the tennis off" as a large crowd, including many from the All England Club, gathered in front of the screen in the run-up to the 3pm kick-off.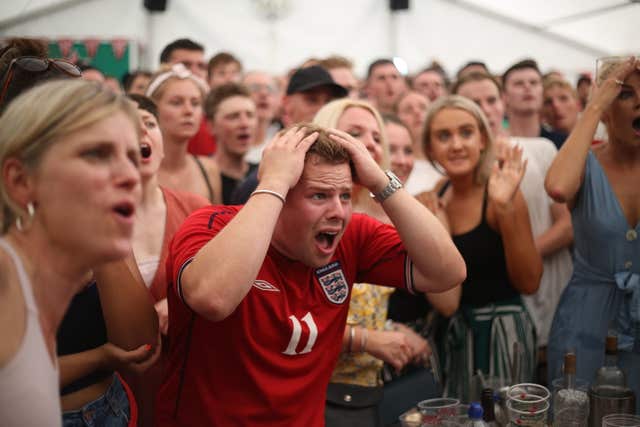 He added: "There's more people leaving than going in."
Beer was lobbed around the sweaty marquee as England secure two goals against Sweden – a world away from the sedentary atmosphere of the tennis, just under a mile away.
As victory drew nearer and Edmund's third-round match approached, there were chants of "put the tennis on, put the tennis on".
After England secured victory, queues formed at the gates of Wimbledon as spectators flocked back.
There had been fears that the two sporting events could clash, with Edmund himself admitting he wanted to watch it.
However the decision by organisers to put the Brit third on Centre Court paid off, with Centre Court match starting after the final whistle.
Speaking at a post-match press conference, Edmund said: "I was obviously keeping an eye on it, watching.
"It's obviously on a bunch of screens around the locker rooms, physio area."
He added:  "It's great. I mean, they're in the semis, first of all. England being in the semis of World Cup doesn't happen too often obviously. It's nice to see that."
A big, rousing crowd, including a few fans wearing England shirts and waving flags, watched the 2 hours and 54 minutes of action.
Earlier, Spaniard Rafael Nadal beat Australian Alex De Minaur in three straight sets.