As Theresa May's Government was plunged into a fresh crisis by Boris Johnson's resignation as Foreign Secretary over Brexit, she rewarded her Remain-campaigning ally Jeremy Hunt with the top Foreign Office job.
Mr Johnson's standing down came hours after David Davis quit as Brexit Secretary, causing the Prime Minister to look towards the man who has weathered many storms while leading one of the nation's most cherished institutions since September 2012.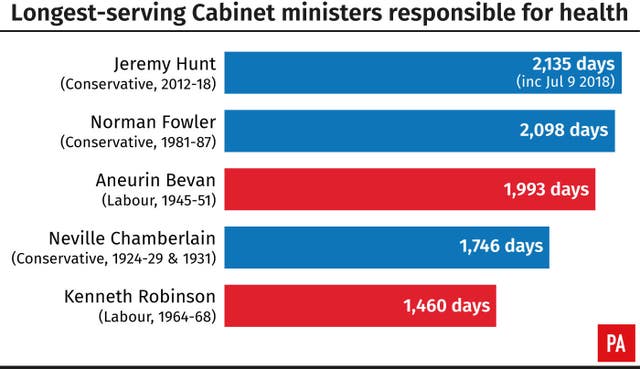 The MP for South West Surrey conceded the NHS endured its "worst ever" period after 2017/18 saw a challenging winter for the health service.
His leadership also saw unprecedented striking of junior doctors over Government plans to create a so-called seven-day health service.
During the debate surrounding the issue, Mr Hunt said it would likely be his "last big job in politics".
Mr Hunt also rowed with physicist Professor Stephen Hawking during the final months of the scientist's life over the future of the health service.
But, ahead of the 70th anniversary of the NHS last week, he confirmed a £384 million-a-week spending boost to be paid for by an increase in taxation.
He has frequently joked that he has argued to keep the health job a number of times.
Before he was appointed Health Secretary, Mr Hunt served as culture secretary.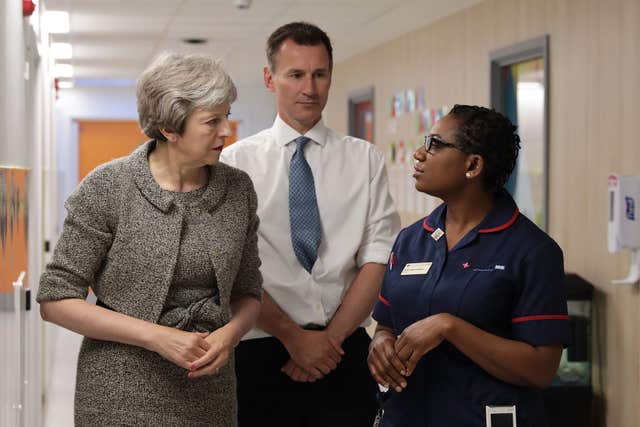 The then culture secretary was under intense pressure to resign over his contacts with Rupert Murdoch's media empire while he was considering its BSkyB takeover bid. But then prime minister David Cameron stood by him.
Mr Hunt was pushed to the fore during the 2010 general election campaign, and he was appointed to the coalition cabinet that May, only five years after becoming an MP.
The son of Admiral Sir Nicholas Hunt, he enjoyed a privileged upbringing that saw him educated at the prestigious Charterhouse school.
He went on to read philosophy, politics and economics at Oxford, where he was a contemporary of Mr Cameron and Mr Johnson.
Mr Hunt later set up educational publishing firm Hotcourses, which has made him one of the wealthiest members of the Cabinet.