The investigation into the fatal nerve agent poisoning spread to a third area with police seizing a car in Swindon.
Wiltshire Police said on Monday night the vehicle was removed from an address in the town some 40 miles from Salisbury where a former Russian spy and his daughter were first poisoned with Novichok.
Dawn Sturgess, 44, of Salisbury, died after being taken ill from her partner Charlie Rowley's flat in nearby Amesbury on June 30. Mr Rowley, 45, remains in a critical condition.
Defence Secretary Gavin Williamson blamed Russia for committing "an attack on British soil" over the latest poisonings, some four months after Sergei and Yulia Skripal were targeted.
Counter-terror police have said their main line of inquiry is whether the two cases are linked, but Mr Williamson went a step further by pointing the finger at Moscow.
He told MPs: "The simple reality is that Russia has committed an attack on British soil which has seen the death of a British citizen.
"That is something that I think the world will unite with us in actually condemning."
Wiltshire Police said the car was being "safely" removed by trained officers and warned the public not to be alarmed.
The force did not immediately respond to a question over whether the car's transportation was to the Government laboratory at Porton Down where other testing has been carried out.
The Ministry of Defence is working with the police on the investigation and the clear-up effort, with 175 armed forces personnel involved.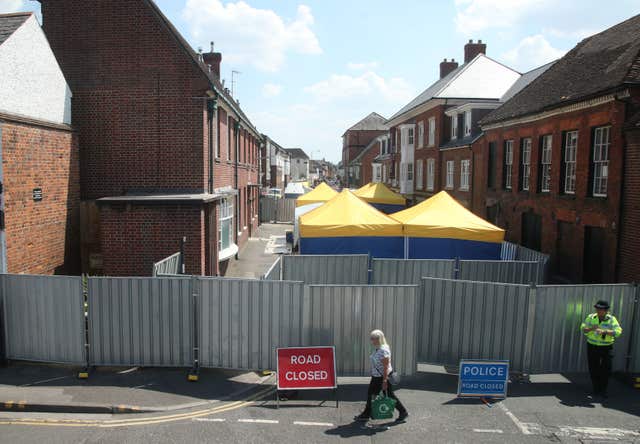 Police are yet to recover that item but Public Health England said the risk to the public is low and warned against picking up "any strange items such as needles, syringes or unusual containers".
Central to the investigation is John Baker House, the supported-living accommodation where Ms Sturgess lived, Mr Rowley's home and Salisbury's Queen Elizabeth Gardens, which remains cordoned off.
A red Ford Transit van in which Mr Rowley was a passenger on June 30 has also been recovered and tested as part of the murder inquiry.
Three other men who also travelled in the van have been tested and show no signs of having been exposed to Novichok, Mr Basu said.
A bus that Ms Sturgess and Mr Rowley used the night before they collapsed has also tested negative for the deadly agent.
Kremlin spokesman Dmitry Peskov told reporters that linking Russia to the poisoning would be "absurd".