David Davis has warned the UK is giving "too much away, too easily" in the exit talks, but backed Theresa May to remain Prime Minister after his dramatic resignation rocked her premiership.
The outgoing Brexit Secretary said the Government had gone further than it should have in the negotiations, in a "dangerous strategy".
Staunch Eurosceptic Dominic Raab was appointed Mr Davis's successor as Brexit Secretary, in a swift move which scotched speculation that Mrs May might take direct charge of negotiations herself.
The 44-year-old Esher & Walton MP enters Cabinet for the first time, having previously served in more junior ministerial posts in the housing and justice departments.
Appearing on BBC Radio 4's Today programme just hours after his midnight resignation, Mr Davis said a leadership challenge would be the "wrong thing to do" and insisted he believed Mrs May was a "good prime minister".
Asked if she could survive, he replied: "Oh yes, of course."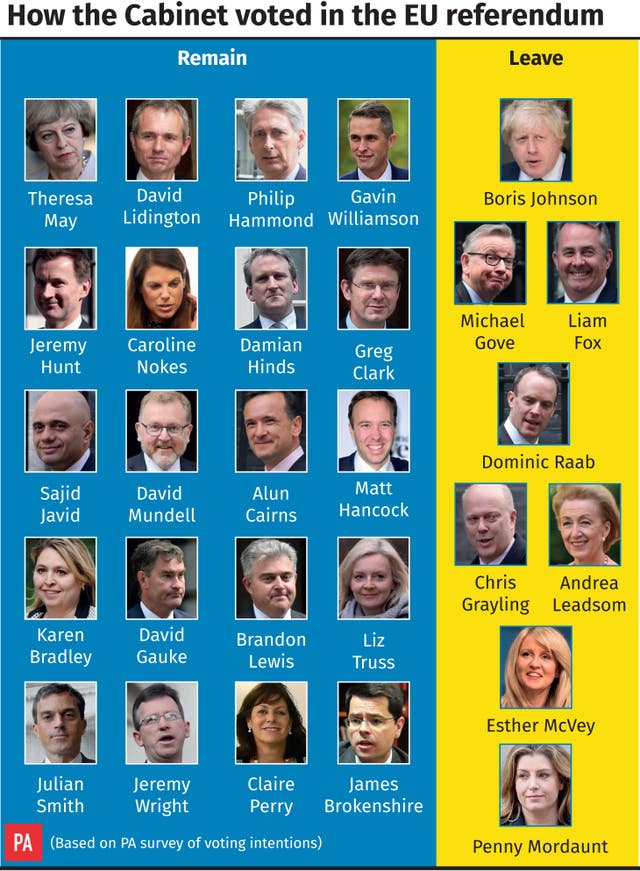 Downing Street insiders insisted Mr Davis had resigned over a difference of opinion rather than as part of a push against Mrs May, and said he had "done the honourable thing".
Mr Davis said he told the PM at Chequers that he was going to be the "odd man out in this" as the latest stage of the Brexit strategy was agreed.
"Hopefully we will resist very strongly any attempt to get any further concessions from us on this, because I think this goes further than we should have gone already."
Describing the plans as having a "number of weaknesses", he explained that it would "not have been plausible" for him to be "front and centre in delivering" it.
Mr Davis said he did not want others to follow him out of Government but added it was a "decision of conscience" that must be made "in their own minds".
He insisted a leadership challenge would be the "wrong thing to do" and ruled out standing against Mrs May.
Letters calling for a leadership contest have reportedly been submitted to the backbench 1922 Committee by some Conservatives over the weekend.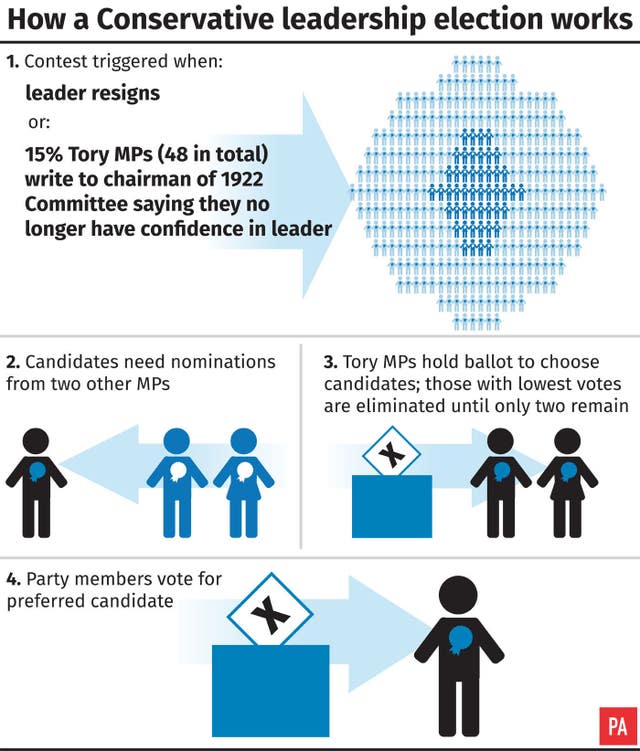 He told LBC radio: "I don't think a no-confidence vote is immediately in the offing.
"I think what the Prime Minister needs to do is give up on the Chequers proposals which, David Davis has pointed out in his resignation letter, don't actually deliver Brexit."
Senior Conservative Bernard Jenkin warned there had been a "massive haemorrhage of trust" as a result of the direction the PM was taking and said it "may well come" to a vote over her leadership.
Prominent Remain-supporting Conservative MP Anna Soubry said the Cabinet's Brexit plan was "far from perfect" but represented "grown-up steps".
Carolyn Fairbairn, director-general of the CBI, said there had been "real rays of light" in the Cabinet agreement on Friday and described the resignation as a "blow".
The Prime Minister faces a stormy meeting with Tory MPs and peers in Parliament on Monday evening as she tries to win support for her plan, which includes an offer to Brussels to share a "common rulebook" on goods and form a new UK-EU free trade area.
In his resignation letter, Mr Davis  said the policy "hands control of large swathes of our economy to the EU and is certainly not returning control of our laws in any real sense".
The responsibility for leading the negotiations should now go to an "enthusiastic believer in your approach, and not merely a reluctant conscript", he said.
In her reply, Mrs May told him: "I do not agree with your characterisation of the policy we agreed on at Cabinet on Friday."
The PM is expected to use a Commons statement to tell MPs that the strategy agreed on at Chequers is the "right Brexit" for Britain.
Brexiteer Cabinet minister Michael Gove admitted the Chequers' plan was not everything he had hoped for, but he was a "realist" and the Prime Minister's lack of a Commons majority meant the "Parliamentary arithmetic" was a factor in deciding what could be adopted.
But all eyes are on Foreign Secretary Boris Johnson, who backed the proposals at Chequers, despite claiming that defending the plans was like "polishing a turd" during the meeting.
There had been confusion surrounding the position of Brexit minister Suella Braverman who had reportedly also quit, but a spokesman for the department confirmed she remains in post.
Labour leader Jeremy Corbyn said the Prime Minister "has no authority left and is incapable of delivering Brexit".
"With her Government in chaos, if she clings on, it's clear she's more interested in hanging on for her own sake than serving the people of our country," he said.