The first patient to have proton beam therapy in the UK has described how he went straight back to work each day following his treatment.
Simon Hardacre, who owns a property business with his brother, had the one-minute treatment for 20 days in April.
Each day following treatment he would return to work, he said.
Mr Hardacre, 56, from Woolaston in the Forest of Dean, became the first patient to undergo proton beam therapy in the UK after having treatment for prostate cancer at the Rutherford Cancer Centre in Newport, South Wales, in April.
His consultant said the treatment "opens up a new frontier for treatment in the UK".
Mr Hardacre was diagnosed with the disease one year ago.
Other British patients have received the treatment but have been abroad to get it.
He told the Press Association: "I feel very fortunate, very lucky and very privileged to be that person.
"The treatment itself didn't take long at all. It is only a minute. They are only delivering the protons 30 seconds each side of you.
"Typically I would arrive at the Rutherford Cancer Centre at about 8.45 in the morning and then there are a couple of things you've got to do – you've got to drink water and change.
"And then you're on the machine and they do real-time scanning every day and then treat you.
"Then you hop off the machine and go and get changed and go home or go back to work, business as usual."
He added: "That's one of the reasons for opting for this treatment is the minimal side effects and you'd be able to carry on your normal life.
"Every day I would be back to work. I would be home late morning and it was just a typical day – it didn't take much time out of my schedule."
He said there was very little in the way of side effects apart from being "a little bit tired" at the end of the day, which didn't start until two weeks into his treatment.
There were also small difficulties going to the bathroom at the end of the treatment which was resolved with a short course of medication, he added.
"I'm two months since I finished my treatment and I'm normal," Mr Hardacre said.
Mr Hardacre was also diagnosed with neck and throat cancer in 2011.
To combat the disease he was treated with chemotherapy and radiotherapy which he described as "very gruelling".
He said he would recommend proton beam therapy, adding: "I certainly know I made the right decision in having proton beam."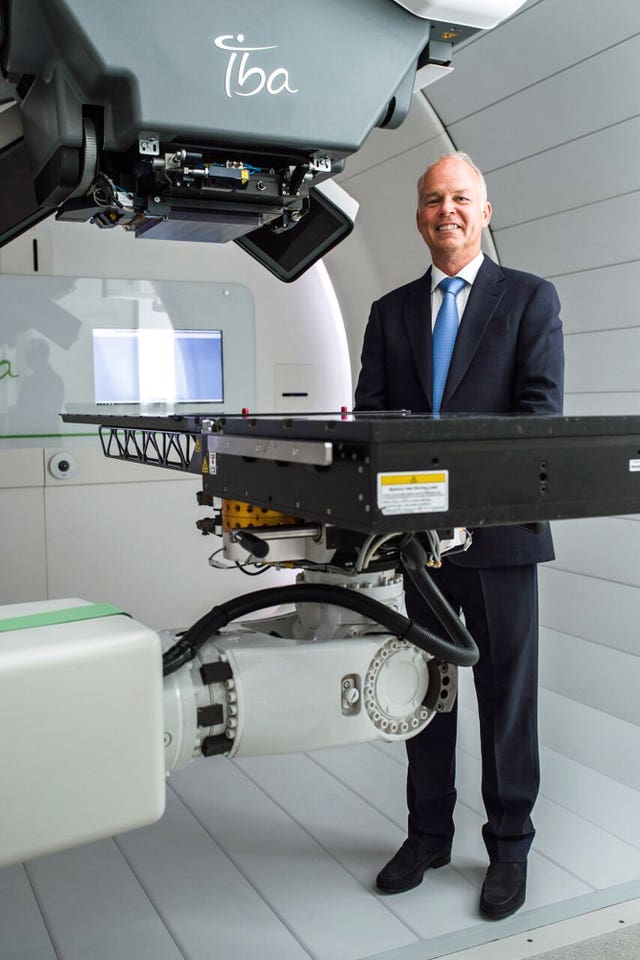 The Rutherford Cancer Centre is the only clinic in the UK where high-energy proton beam therapy is currently available.
Dr Jason Lester, the consultant oncologist who treated Mr Hardacre, said: "Treating the first person in the UK with high-energy proton beam therapy is a significant event, and it opens up a new frontier for treatment in the UK.
"In the case of Mr Hardacre, we feel really positive about the way he coped with treatment.
"He will need regular check-ups in order to monitor his progress, and it was great to see him benefit from having treatment so close to home with minimal disruption to his daily life.
"We hope Mr Hardacre is the first of many to see the benefits from proton beam therapy treatment here in the UK."
Proton Partners International is currently building Rutherford Cancer Centres in Northumberland, Reading and Liverpool.
It is planning eight centres across the UK to enable three quarters of the population to be within 90 minutes of a centre.
The company has estimated that around 9,000 patients each year could be eligible for proton therapy.
Treatment at the Rutherford Cancer Centres is available to patients who self-fund and insured patients.
It said that it is also available to NHS patients "should we be commissioned to provide proton beam therapy for them".
In the NHS two facilities are currently being built – one at The Christie NHS Foundation Trust in Manchester, with services expected to begin later this year, and another at University College London Hospital NHS Foundation Trust where services are expected to commence in 2020.
According to NHS Choices around 400 patients who require proton beam therapy for more specific tumours have been able to access treatment abroad since April 2008.
Proton beam therapy is a type of radiotherapy. Traditional radiotherapy uses high-energy beams of radiation to destroy cancerous cells, but surrounding tissue can also be damaged.
Proton beam therapy uses beams of protons – sub-atomic particles – to kill cancerous cells. The treatment can cause minimal damage to surrounding tissue.
According to NHS Choices, Cancer Research UK estimates that only one in 100 people with cancer would be suitable for proton beam therapy.