A fire control room manager on the night of the Grenfell Tower blaze became "increasingly uncomfortable" with the stay-put policy and abandoned it within 15 minutes of her arrival.
Joanne Smith, senior operations manager for the London Fire Brigade (LFB), was on call on June 14 last year.
After listening to operators' calls and becoming aware of deteriorating conditions inside the tower, she made the "quick-time" decision that residents should be told to evacuate.
In a written statement to the public inquiry into the blaze, she said: "I had arrived at Stratford at approximately 2.15am – within 10 to 15 minutes the decision was made to change policy and that decision was mine.
"This would have been at approximately 2.30am–2.35am."
Ms Smith said she told Adrian Fenton, the deputy assistant commissioner responsible for the Brigade Co-ordination Centre, they should consider changing the policy.
She went on: "The decision was made owing to a variety of factors – the duration of calls, the content of the calls and the resources available.
"These factors and my years of experience formed the basis of my rationale and coincided with the recommendations following the Lakanal fire in 2009 in which certain questions were asked by the CROs (control room operators) regarding smoke and fire levels.
"The information that was fed back by the CROs from residents and the conditions they were in led me to believe that they had no way of waiting to be rescued."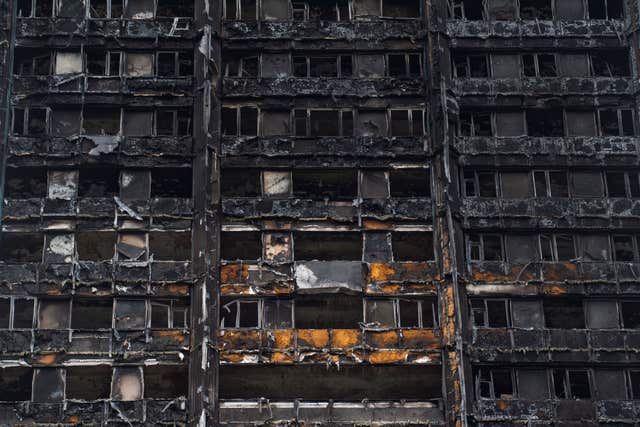 Residents were advised to 'get out, hold hands and get wet towels to put around themselves', and control room operators were told they may need to adopt more "forceful and blunt language" to emphasise the necessity of evacuation.
Phone operator BT was also made aware of the change so it could advise residents what to do.
Ms Smith said from 2.30am until 4am the influx of calls was "utterly relentless", and described staff as "broken" by the night.
She said they were "incredibly worried" the building could collapse, and made a "collective decision" not to watch any coverage of the fire on television.
She said: "This was a conscious decision to remain objective to the job in hand.
"The last thing we wanted to do was to cause panic or distress to the staff members who were still talking to residents inside the flats whilst the building burned."