Cars and a bus have been hijacked and torched in Northern Ireland in violence linked to loyalist bonfires.
The incidents on the outskirts of Belfast and in nearby Newtownards came as police warned that loyalist paramilitaries were planning to "orchestrate and participate in serious disorder" in east Belfast through Wednesday night.
That threat followed a day of tension after contractors escorted by police officers cleared two loyalist bonfire sites amid fears of potential damage to property.
The remnants of a pipe bomb were found close to one of the contentious sites after reports of a loud bang in the area on Wednesday afternoon.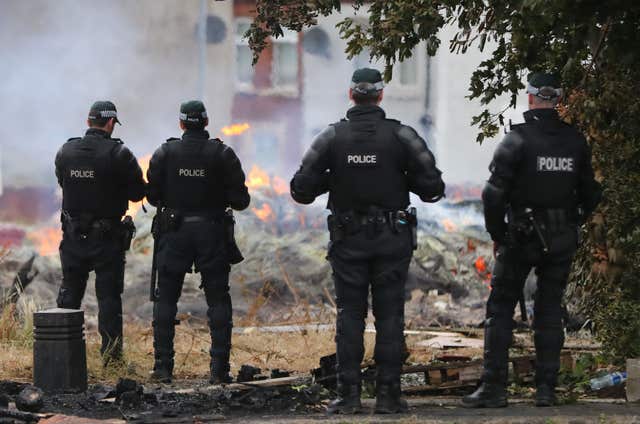 Masked men also blocked roads close to the Ulster Hospital in Dundonald with burning cars.
A significant police presence remained in place in parts of east Belfast on Wednesday night.
The violence is linked the moves to limit the size of bonfires at Bloomfield Walkway and Cluan Place in east Belfast.
Hundreds of bonfires were set to be lit at midnight as part of a loyalist tradition to mark the anniversary of the Protestant King William's victory over the Catholic King James at the Battle of the Boyne in 1690.
Police moved into the area at around 5.30am on Wednesday morning, but loyalists set it alight before the material could be seized.
The Cluan Place bonfire was cleared later on Wednesday, with police escorting masked contractors.
The threat from the UVF is believed to be directed at police officers.
Police Service of Northern Ireland (PSNI) Assistant Chief Constable Alan Todd said, as a result of the threat, he is reviewing his resourcing plans.
"Police have received information from the community which indicates that the East Belfast UVF intend to orchestrate and participate in serious disorder in East Belfast this evening directed against my officers," he said.
"I would strongly urge people to desist from engaging in any violent or criminal behaviour.
"I would also appeal to those who have influence in this community to discourage people from taking part in any illegal activity.
In Newtownards, Co Down a bus carrying passengers was hijacked by masked men, who were believed to have been carrying firearms.
None of the passengers were injured in the incident which took place around 7.30pm on Wednesday.
The bus was hijacked in Blenheim Drive and later set on fire.
Police were also at the scene of nearby Messines Road which was blocked by burning tyres.
On the Upper Newtownards Road in Dundonald a number of masked males pushed a car into the road and set it on fire close to Robbs Road at around 9.45pm.
A further report was received that two cars were set on fire close to the Carrowreagh Road.
A PSNI spokesman said: "We would like to the thank the members of the public who are currently assisting us as we try to identify these individuals who appear determined to obstruct the road network, particularly so close to the Ulster Hospital's Accident and Emergency Department."