Brussels has warned that Theresa May's Brexit proposals must be workable in order to avoid a no deal scenario as the Government reveals details of its controversial EU withdrawal plans.
Brexit Secretary Dominic Raab is insisting the much-anticipated Government white paper setting out its exit aims is practical and respects the referendum result while backing business.
But chief Brussels negotiator Michel Barnier said the proposals must conform to EU rules and not create extra costs as he told US business leaders to prepare for a no deal scenario.
Mr Raab is saying the white paper policy document outlines how the UK can continue frictionless cross-border trade with the EU in goods while setting its own tariffs for dealings with the rest of the world.
The proposals, hammered-out at a Chequers summit of ministers, have already caused outrage among many Leave supporters, and triggered the resignations of Mr Raab's predecessor as Brexit secretary, David Davis, and ex-foreign secretary Boris Johnson, from the Cabinet.
Mrs May wrote in The Sun the plan was the only one which "truly respects the will of the British people".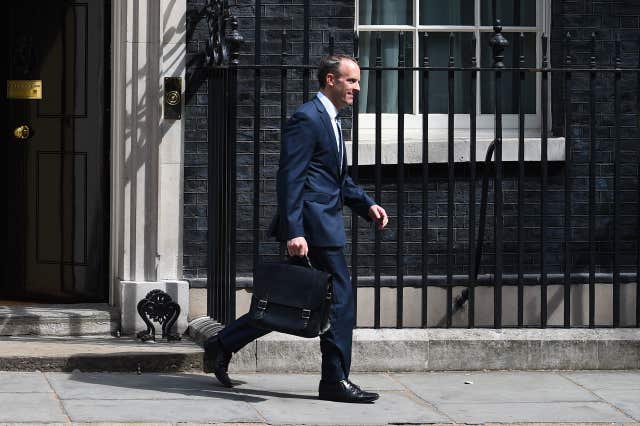 He is set to add: "It would take the UK out of the single market and the customs union.
"It would give the UK the flexibility we need to strike new trade deals around the world, in particular breaking new ground for agreements in services.
"It would deliver on both sides' commitments to Northern Ireland and Ireland, avoiding a hard border without compromising the EU's autonomy or the UK's sovereignty.
"Alongside this unprecedented economic partnership, we also want to build an unrivalled security partnership, and an unparalleled partnership on cross-cutting issues like data, and science and innovation."
Ahead of the release of the white paper, Mr Barnier told the US chamber of commerce: "We will look carefully at each and any proposal of UK, but these proposals must be workable."
However, Mr Barnier said: "Only the combination of the single market and the customs union makes frictionless trade possible.
"Outside of the customs union there need to be procedures and customs controls.
"And outside of the single market you necessarily have controls to check compliance with European standards.
"As a consequence there will be no business as usual because of the Brexit.
"And we should all get ready for all scenarios, including a no-deal scenario."
Meanwhile, Tory MP Maria Caulfield, who resigned as a party vice chairperson in protest at Mrs May's withdrawal stance, said Brexiteers were being held in contempt by a "small cabal" in Downing Street.
Writing in the Daily Telegraph she said Mrs May's plan was "catastrophically bad" and a "disaster for the Conservative Party".