The "ultimate sandcastle", with all the features for a formidable fortification formed out of 29 tonnes of sand, has been unveiled by English Heritage.
The sand sculpture, which took five days to make, has been created at Dover Castle in Kent ahead of a sandcastle building weekend at English Heritage castles across the country.
As part of a #LoveCastles season, English Heritage is also calling on members of the public to send it photographs of their own sandcastles and is revealing its top tips for building a successful castle on the beach.
It also features a gatehouse with portcullis and drawbridge, and a ditch and bank around the outside to stop enemies approaching the walls directly.
Roy Porter, English Heritage Senior Properties Curator and creator of the ultimate castle, said: "A castle is surely one of the most awe-inspiring sights but if you look closely, all is not what it seems.
"These amazing structures are a brilliant mix of ages and types, reflecting changing threats and fashions over centuries.  Part of the fun of visiting them is using a Sherlock-like eye to tease out their secrets!
"By studying hundreds of years of trial and error by the real castle builders our ultimate sandcastle contains everything you'd like to see, with each element showing off castle-building 'perfection' from a different era.
"I hope people will be inspired to build their very own ultimate sandcastle this summer – and support English Heritage to care for all our real castles so that they can continue to inspire us all for centuries to come."
Jamie Wardley, Sand in Your Eye sand sculptor, added: "At Sand in Your Eye we're used to creating great, big sand sculptures all over the world, but this was definitely a once in a lifetime experience.
"To be able to build and sculpt the most perfect castle, not only from a visual point of view but also historically, using Roy's research into hundreds of years' worth of castle building history, was a real first for us. "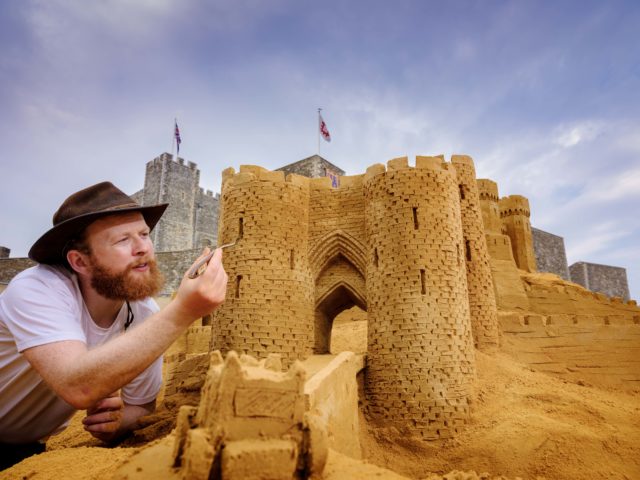 Sandcastle building workshops are being held at eight castles around England on Saturday and Sunday, and the castle at Dover will be on display until mid-August.