Donald Trump has warned Theresa May her Brexit plan could "kill" any UK-US trade deal because Britain would remain so closely aligned to the European Union.
The US president said he would have done the Brexit negotiations "much differently" and claimed the Prime Minister did not listen to his advice, in an interview with The Sun.
His highly-controversial remarks came at the end of a day in which he had already waded deeply into the Brexit row over Theresa May's white paper ahead of his first official visit to Britain as President.
He had used a Thursday morning press conference in Brussels to attack the Prime Minister's Brexit plan and highlight Cabinet divisions.
In a Sun interview released while Mr Trump and First Lady Melania were being entertained by the Prime Minister at Blenheim Palace, the president said: "If they do a deal like that, we would be dealing with the European Union instead of dealing with the UK, so it will probably kill the deal.
"If they do that, then their trade deal with the US will probably not be made."
The comments, following on from the morning press conference, will be a cause of great concern for Mrs May.
She had used the Blenheim black tie dinner with political and business leaders to press Mr Trump on the benefits of a free trade deal after Brexit.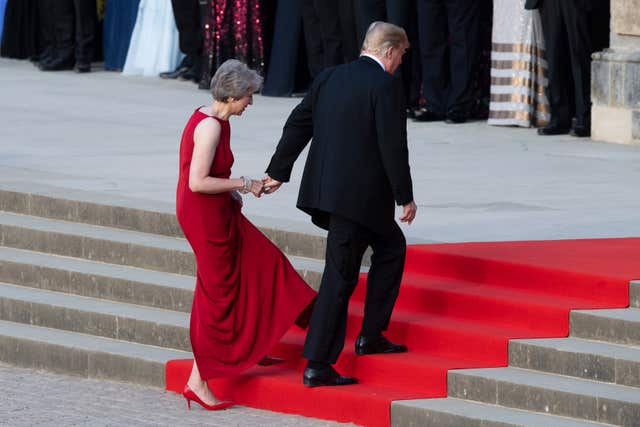 But Mr Trump appeared to link Brexit to the current trade dispute between the US and EU over steel and aluminium.
He told The Sun Mrs May's plan would affect trade "unfortunately in a negative way". He added: "We have enough difficulty with the European Union.
"We are cracking down right now on the European Union because they have not treated the United States fairly on trading.
"No, if they do that I would say that that would probably end a major trade relationship with the United States."
The Trumps landed in Air Force One at Stansted Airport at lunchtime on Thursday to kick-start a four-day working visit to Britain as protests against his trip began.
Speaking to reporters in Belgium after a fiery Nato Summit, Mr Trump had described the UK as a "hot spot right now with a lot of resignations" and dismissed the Prime Minister's Chequers plan on the next stage of Brexit.
"The people voted to break it up so I would imagine that's what they would do, but maybe they're taking a different route, I don't know if that is what they voted for."
He added that it seemed as if the UK was "getting at least partially involved back with the European Union".
"I'd like to see them be able to work it out so it could go quickly," he said.
It comes just days after Mr Trump declined to say whether Mrs May should remain in post, said he had "always liked" Boris Johnson, who quit as foreign secretary over the Chequers agreement, and described the UK as being in "turmoil".
Mr Trump went further and suggested to the Sun Mr Johnson was "a great representative for your country".
Asked if he could become prime minister he added:  "Well I am not pitting one against the other. I am just saying I think he would be a great prime minister. I think he's got what it takes."
The Trumps had earlier arrived at Stansted with their sizeable entourage.
Protests took place outside the Blenheim grounds in Woodstock, Oxfordshire, with several hundred demonstrators waving banners and placards reading Dump Trump, Not Welcome Here, Protect Children Not Trump and Keep Your Tiny Hands Off My Pussy!
There were also demonstrations close to Winfield House, the US ambassador's residence near Regents Park where the president and first lady Melania Trump will spend the night.
Some carried placards saying Special Relationship? Just Say No and No To Trump, No To War.
But they avoided the noise and spectacle of the protests on the ground by travelling by helicopter between the airport, London and Oxfordshire.
Leaders of the financial services, travel, creative, food, engineering, technology, infrastructure, pharmaceutical and defence sectors were among around 100 guests at Blenheim who dined on Scottish salmon, English Hereford beef fillet and strawberries with clotted cream ice-cream.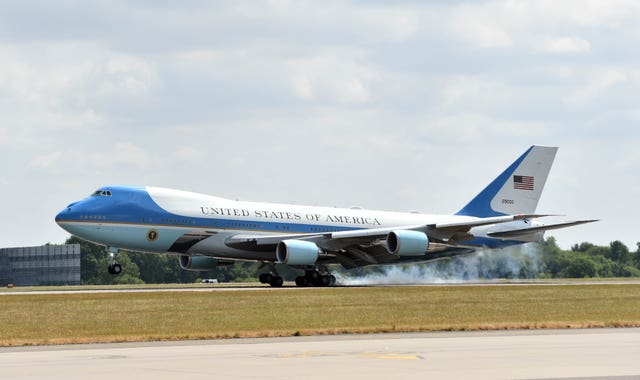 The president is expected to avoid areas where major demonstrations are planned in protest at his visit.
After spending the night at Winfield House Mr Trump will join the PM at a military base on Friday to observe a joint counter-terrorism exercise involving UK and US special forces.
They will hold talks at the Prime Minister's country residence of Chequers on Friday where Russia, Brexit and the Middle East will top the agenda.
Mr Trump will then travel to Windsor Castle to meet the Queen before heading to Scotland for a private part of the four-day visit, ahead of travelling to Helsinki for a summit with Russian president Vladimir Putin.