First Lady Melania Trump has played bowls with the Prime Minister's husband.
Mrs Trump, 48, joined Philip May, 60, at the Royal Hospital Chelsea in London where she met Chelsea pensioners and local children.
The First Lady was wearing a sleeveless dress with wide coloured panels, reported to be by Victoria Beckham, and towering heels with a red sole which appeared to be by Christian Louboutin.
She bowled four times, and smiled as though she was enjoying the activity, while the light breeze blew her hair back from her face.
After one of her bowling attempts, Mrs Trump initiated a high five with a Chelsea pensioner after he gave her effort the thumbs up.
Before she took to the bowling green, Mrs Trump met school children from Saint George's Church of England primary school who were making remembrance poppies.
When she arrived into the room, she said "good morning" and asked the children if they would like to show her how to make the poppies.
Mrs Trump had a go at making one, and told the children: "Thank you for helping me."
She showed Mr May her effort and joked: "Very professional."
After the poppy making, Mrs Trump listened to school children talk about values and service.
Mrs Trump sat beside Mr May in front of a poster which said "Be the best you can be".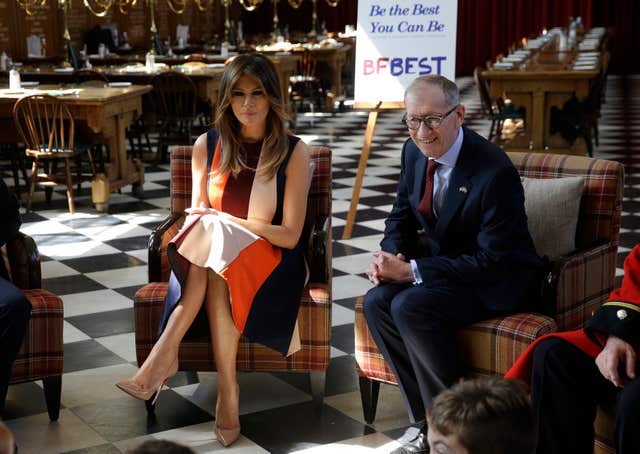 Before Mrs Trump's arrival, waiting media – who had gone through rigorous security checks – were told not to shout out questions.
She was greeted by Mr May when she stepped out of her vehicle which was preceded on the route to the hospital by at least four police outriders.
The convoy also included around five black jeeps.
On arrival, Mrs Trump met Lieutenant colonel Nicky Mott, hospital CEO Gary Lashko and Chelsea pensioners John Riley, Alan Collins and Marjorie Cole.
Slovenian-born former model Mrs Trump and Oxford graduate Mr May made for an unlikely pairing on Friday morning, but greeted each other warmly and appeared relaxed in each other's company.
The first lady became Donald Trump's third and current wife in 2005 after becoming a couple in 1998.
They had a son, Barron, in 2006, the year she became a US citizen.
The glamorous first lady-in-waiting was caught up in controversy during the election campaign when news organisations questioned whether nude photos she posed for in 1995 meant she worked illegally in the US under the wrong visa. She has denied the claim.
She was also caught up in a plagiarism row at the Republican National Convention in July when two passages from her address — each 30 words or longer — matched a 2008 Democratic convention address by Michelle Obama nearly word-for-word.
Born Melanija Knavs in Novo Mesto in 1970, the first lady grew up in Sevnica while Slovenia was part of the Communist-ruled former Yugoslavia.
She left in her twenties to pursue a modelling career and appeared in high profile ad campaigns.
Meanwhile, city financier Mr May has kept a determinedly low profile as his wife rose through the ranks of the Conservative Party, with the couple having been an item since their student days.
His appearance for a Westminster photocall embracing his wife on the day she was confirmed as David Cameron's successor was the first many had seen of him.
They have been married for 35 years after meeting while they were studying at Oxford University in 1976.
The pair were introduced at a Conservative Association dance by the late Pakistani prime minister Benazir Bhutto.
Those close to the couple say he shares her passion for politics and has been an essential support in her career and sounding board for her ideas.
When they first got together, it was Philip who some thought would rise to the top in politics, after he was elected president of the Oxford Union, a springboard for many future ministers.
They bonded over a shared love of cricket and belief in Conservative politics, and married in 1980 in the Oxfordshire church of Mrs May's father, an Anglican vicar.