Protesters took to the streets to denounce Donald Trump's UK visit for stoking "division along fault lines of fear and hatred".
Pots and pans were bashed and a loud chorus of "say it loud, say it proud – Donald Trump's not welcome here" erupted from the crowd against a backdrop of drumming and cheering.
The colourful march began after a choir sang, the suffragette march was played on a loudspeaker and people joined in with the songs We Are Family and Sisters Are Doing It For Themselves.
It was a carnival atmosphere among the crowd which included babies being pushed in prams plus men and women of different ages and races.
The marchers banged out a wall of noise as they headed from London's west end to Parliament Square in a loud carnival atmosphere of drumming and cheering.
Organisers of the Women's March London, had pledged to "bring the noise" in protest and urged those taking part to bring pots and pans, drums and musical instruments.
Actress Laura Carmichael, who played Lady Edith Crawley in Downton Abbey, held a banner which read "End Violence Against Women".
Organisers had said: "Some continue to stoke division along fault lines of fear and hatred – in pursuit of agendas driven by desire for profit, greed, power & domination. They are going about their daily business wreaking havoc – fuelling conflict; displacing vast numbers from their homes; waging war on our rights; destroying our planet. It is more important than ever that we resist."
Lucy Guy, 41, brought a handmade poster which read "Not even your wife likes you".
"We all know that he cannot stop watching the TV so I hope he might see this and it annoys him."
The homemade banner proudly held by Emily Darnell, 40, an executive assistant from Haywards Heath near Brighton, read "Super Callous Fragile Racist Sexist Nazi Potus".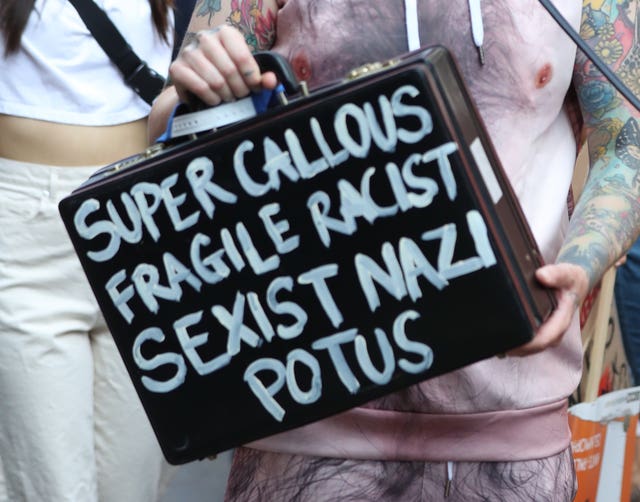 "Where do you even start with Trump? He makes me sigh. I think it is really important that so many people are here so that he knows how Britain feels and how women feel about him. He is such a loser."
Scotland Yard said there had been no arrests by 3.30pm at the women's march.
Protesters said they were united against Trump and many had put their creative caps on in a range of colourful banners.
James O'Brien, from County Mayo, was selling Donald Trump toilet paper at Oxford Circus which was attracting amused passers-by.
"We thought it'd be fun," he said.
Getting the attention of potential buyers, he said: "The most satisfaction you can have in a toilet, kids."
A percentage of the money raised from the toilet rolls is going towards mental health awareness.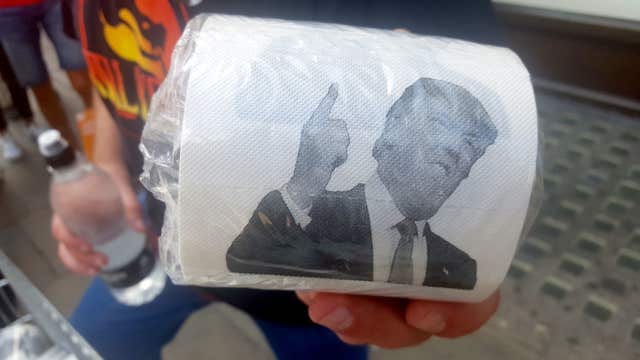 A woman in whiteface and a clown's outfit had a banner which declared "Clowns Against Trump" on one side and a plea to end child detention on the other.
Inge Kjemtrup, chair of Democrats Abroad, said she felt it was "extremely exciting" to be an American in London and seeing so many people come out in protest of the US President.
She said: "These people are objecting to Trump and his policies. His policies are anti-immigration, anti-health and harmful. They are protesting all the horrible things he is doing to divide people on all kinds of grounds such as religious.
"We want to let overseas Americans know they should vote in the mid-terms to do something about it."
Women's rights activist Sadia Abdi of ActionAid Somaliland said: "Women have suffered enough. Violence against women is such a shameful act of cowardice. Trump and other leaders – if you condone it, commit it or remain silent, you will be held accountable."
Actress Samantha Bond, who has played Miss Moneypenny in James Bond films, earlier tweeted her support for the march saying: "Donald Trump has devastated funding for women's health in the poorest countries, refuses asylum to women fleeing domestic violence + is undermining human rights worldwide."
Actor and writer Stephen Fry, another supporter of the march who condemned Mr Trump, had tweeted "Friday 13th – and a horrible visitation brings alarm, disgust and hilarity to my homeland. Wish I was there for the merry march against the Trumpalo. Join the@AmnestyUK #humanrightsnightmare bloc to protest his presence."
Former Lib Dem deputy prime minister Sir Nick Clegg said he would also be among the crowds of demonstrators, writing: "Right, I'm going on the anti-Trump demo. I had no intention to but his crazed attacks on the EU, Nato, and WTO have changed things.
"Plus his best UK pals are Nigel Farage, Boris Johnson and Piers Morgan. He dislikes everything I believe in and believes in everyone I dislike!
"Donald Trump has every right to visit. We have every right to say he's wrong."