The Duchess of Cambridge and Duchess of Sussex were greeted by cheers as they arrived at Wimbledon.
Kate and Meghan, who are conducting their first engagement together without their husbands, stopped and spoke with a number of ball boys and ball girls, as well as junior players before making their way across the walkway for lunch.
When they passed across the bridge, crowds gathered below cheered and took pictures, as Meghan waved warmly in acknowledgment.
She was wearing wide-legged cream trousers with a blue and white Ralph Lauren shirt in a nod to the designer who supplies the clothing for the Championship's ball kids, lines judges and umpires.
Prepared for a day in the sun, the newlywed who was invited to SW19 by Kate, was also carrying a white wide-brimmed hat with black ribbon.
Kate was wearing a Jenny Packham dress with nude suede heels, and matching handbag.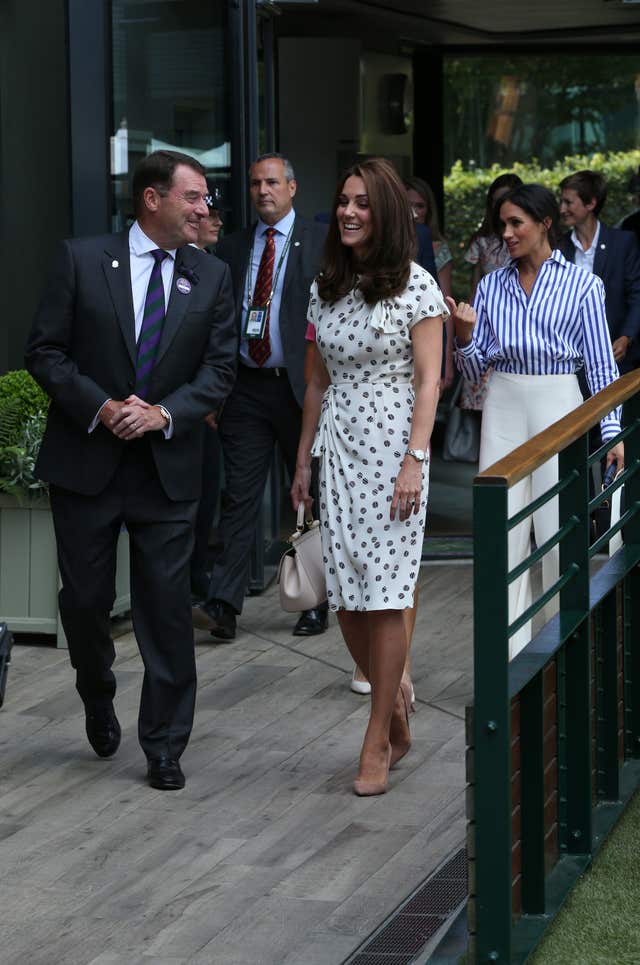 After her semi-final win on Thursday, Williams hailed her "wonderful" friendship with Meghan and said she was looking forward to her attending.
It comes exactly two months after the tennis star took a front-row seat at Meghan's wedding to the Duke of Sussex in Windsor.
Tia Carter, 11, who will be performing the coin toss before the ladies' singles final, said she was both excited and nervous to meet the royals.
She said: "Meghan asked how old I was, and what I was doing today. I told her I will be performing the coin toss and she said 'so I will be seeing you later'."