Former Sinn Fein president Gerry Adams has called on those who attacked his home to meet him and explain why they did it.
The homes of Mr Adams and prominent Sinn Fein figure Bobby Storey were attacked with explosive devices on Friday night, the party said.
Mr Adams said he does not know who is responsible for the attacks, but added: "There may be a connection between what's happening in Derry.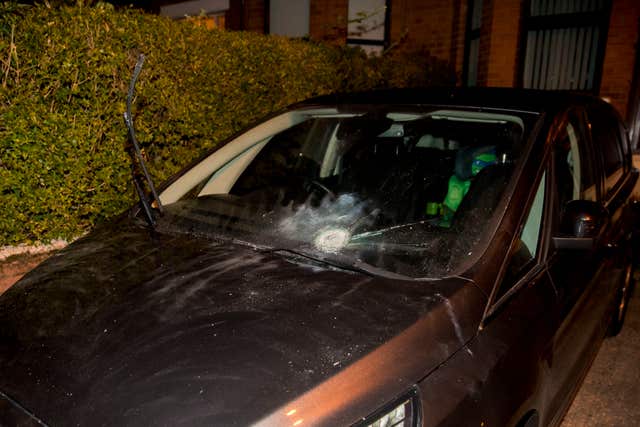 The former party president said "most people would see a connection".
Sinn Fein leaders, including current president Mary Lou McDonald, were scathing in the criticism of the extremists behind the rioting and attacks on police in Londonderry.
Mr Adams said he is "very, very thankful" that no-one was hurt, but said two of his grandchildren were in his driveway just 10 minutes before the attack.
Speaking at a press conference in west Belfast on Saturday morning, Mr Adams, flanked by Mr Storey and North Belfast MLAs Gerry Kelly and Caral Ni Chuilin, said: "Obviously those who were involved, like the people that were out in east Belfast or out in Derry, have their own agenda in all of this."
He added: "For those who were involved in the attack, if they have the gumption to sneak up on our homes, I'd like them or their representatives to come and meet me.
"I'd like them to sit down and explain to me what this is about.
"I'd like those who are involved in exploiting children in Derry to do the same thing, or those who are poisoning the atmosphere in east Belfast and causing havoc to do the same thing."
He said he can be contacted through any Sinn Fein office, adding: "So that's my direct appeal to them. Come and sit down and explain to me what this is about. Give us the rationale for this action."
Mr Adams appealed for calm and referred to "some people" who he said are "resistant to change".
The republican party criticised the "reprehensible and cowardly" attacks, which were also condemned by Irish Taoiseach Leo Varadkar.
"I unequivocally condemn the violence in Derry and Belfast last night. We will not allow a small minority intent on violence to drag Northern Ireland back to the past," he said.
"We stand with the decent law-abiding people from all communities in the North," Mr Varadkar said on Twitter.
Significant damage was visible to a vehicle on Mr Adams' driveway in the aftermath of the attack and a blast mark could be seen on the windscreen.
A heavy security presence was outside the home of Mr Storey, with a number of police Land Rovers and armed officers standing guard.
The PSNI said detectives are "investigating incidents at two houses in west Belfast, after reports were received of loud bangs at both locations at around 10.50pm" on Friday.
Police added: "Officers attended and carried out searches, and have seized remnants of large industrial, firework-type devices, capable of causing serious damage or injury, at both locations."
While police have not yet attributed responsibility, the attacks are likely to be the work of dissident republicans who oppose Sinn Fein's involvement in the peace process and are engaged in localised turf wars in republican strongholds in an effort to wrest support away from the mainstream movement.
Sinn Fein dismisses the dissidents as unrepresentative gangs with no political strategy that use the cloak of republicanism to engage in criminality.
Friday's attacks in west Belfast came after six successive nights of dissident-orchestrated violence in the republican Bogside neighbourhood of Londonderry.
Mr Adams led Sinn Fein from 1983 until February 2018, while Mr Storey has served as the party's northern chairman.
Following the attacks, the leader of the Alliance party Naomi Long said the attacks "Must be condemned without equivocation".