A union leader has said he was the victim of an "unprovoked" attack by a mob after he addressed a counter-protest to a rally in support of Donald Trump and jailed far-right leader Tommy Robinson.
Steve Hedley, senior assistant general secretary of the RMT, was among a number of officials assaulted by Robinson supporters, according to the union.
Witnesses said a mob ambushed a group at the Westminster Arms pub in central London on Saturday afternoon in a targeted attack.
In a video on social media, Mr Hedley said: "We got attacked by a load of thugs, completely unprovoked.
"We defended ourselves obviously and there were a lot of casualties on both sides. But it was a completely unprovoked attack – we were just sitting there having a drink.
"If you oppose Tommy you get attacked by a glass and a chair – we have to stop this."
He described the thugs as being from the English Defence League, which Robinson used to lead.
One witness, who asked not to be named, said: "They (the attackers) knew what they were doing."
Smashed glass was strewn across the pavement outside the establishment on Storey's Gate, and pictures showed Mr Hedley with a bandaged head and bloodied face.
RMT general secretary Mick Cash said: "A group of RMT members who had been involved in a peaceful protest in central London have been subjected to a cowardly and unprovoked attack by fascist supporters of Tommy Robinson.
"A number of our members and officials have sustained injuries and the union is providing full support to those caught in this despicable act of pre-meditated violence. "
Scotland Yard feared violence ahead of the rally in support of Mr Trump, who is currently in the UK, and 35-year-old Robinson, who was jailed for 13 months for contempt of court after filming people involved in a criminal trial and broadcasting the footage on social media.
Mr Hedley was among those to speak at the counter-protest.
Some outside Downing Street waved "Britain Loves Trump" placards, wore Mr Trump's red Make America Great Again caps and cheered at mentions of the US leader, but the main focus was Robinson, real name Stephen Christopher Yaxley-Lennon.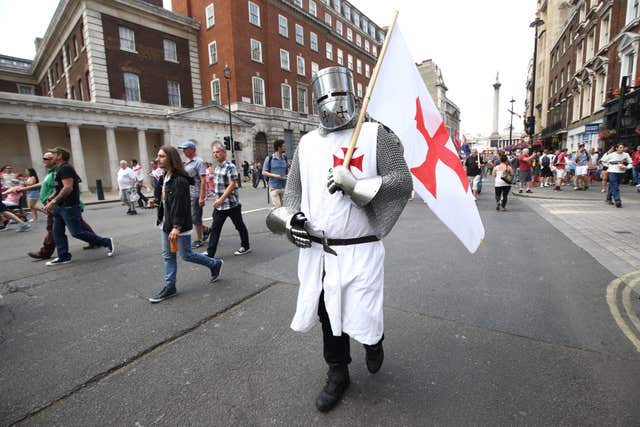 A small group on Saturday breached the order by starting at the US Embassy, pictures on social media showed.
Images also showed minor clashes between supporters and opponents in Parliament Square, and officers at the scene said cordons had been bolstered after breaches from the right-wing group.
A London Ambulance Service spokeswoman said one person was taken to hospital after attending Storey's Gate at 4.15pm.
The force said a total of 12 people have been arrested as part of the demonstrations.