Sinn Fein president Mary Lou McDonald has warned dissident republicans behind an attack on Gerry Adams' home that her party will not be intimidated.
Mrs McDonald said senior party members were reviewing their security in the wake of Friday's night incidents at the west Belfast homes of Mr Adams and fellow high profile Sinn Fein figure Bobby Storey.
Police have said explosive devices thrown at both men's homes were industrial-type fireworks with the capacity to cause serious injury.
A car on the driveway of Mr Adams' property was significantly damaged in the blast.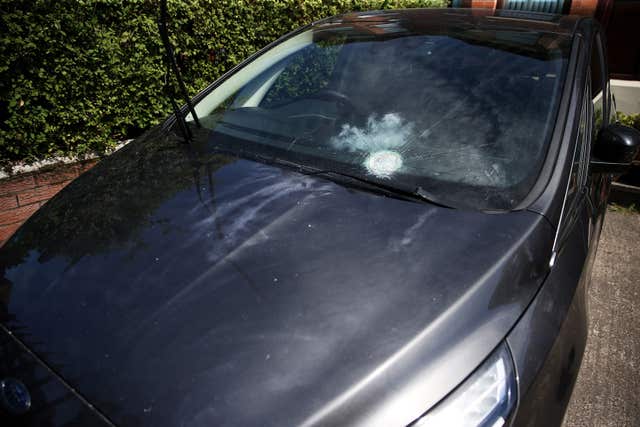 "We are not going to be intimidated," she said.
"If that is the rouse here, if that's the strategy here that will fail. We will not be put off our task, we will not be bullied, we will not be intimated and, more importantly, communities right across the north of Ireland and beyond will not be bullied or intimidated either."
She added: "The police and ourselves share the same analysis on these events. It is the work of violence dissidents who wish to destabilise and go against the democratic wishes of the majority for peace and for advancement."
Asked whether members would be reviewing their security, Mrs McDonald replied: "It is only sensible given there has been an attack on Gerry and Bobby Storey that people would be sensible about their personal security."
On Saturday, Mr Adams urged those behind the attack to meet with him to explain their rationale.
Dissident republicans oppose Sinn Fein's involvement in the peace process and are engaged in localised turf wars in republican strongholds in an effort to wrest support away from the mainstream movement.
Friday's attacks in west Belfast came after six successive nights of dissident orchestrated violence in the republican Bogside neighbourhood of Londonderry.
Sinn Fein leaders, including Mrs McDonald, were scathing in the criticism of the extremists behind the rioting and attacks on police in Derry. The party believes the attacks on Mr Adams and Mr Storey were potentially in response to that.
"I suspect there is a link," Mrs McDonald said on Monday.
"Let's be very clear – this is a very small faction within broader society who wish to cause conflict and division."
Mr Adams led Sinn Fein from 1983 until February 2018, while Mr Storey has served as the party's northern chairman.
Mrs McDonald said the dissidents were trying to exploit the current political vacuum created by a lack of powersharing government in the region.
"The response is uniform, people aren't having it," she added.
"And those violent dissidents who wish to cause trouble and sow division need to understand that they will fail because the communities will not allow them to succeed."