Prime Minister Theresa May did not ask Donald Trump to raise the Salisbury poisonings with Vladimir Putin in their meeting in Helsinki, Downing Street has said.
Mrs May's spokesman said that the US president had already made clear, not least through his expulsion of 60 Russian diplomats, that he shares the PM's judgment that Moscow was responsible for the nerve agent attack on Sergei and Yulia Skripal that last week claimed the life of Dawn Sturgess.
The spokesman said the Government remained committed to "constructive dialogue" with Washington over steel tariffs, after Mr Trump described the EU as "a foe" of the US in trade terms.
Mr Trump did not mention the Salisbury case at Friday's Chequers press conference when he listed the subjects he plans to raise with the Russian president in Finland.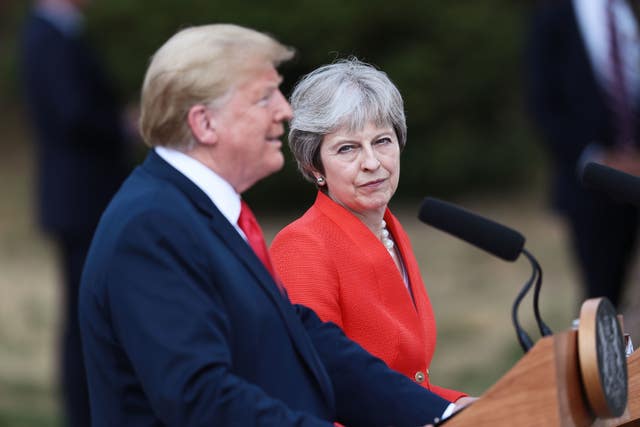 He said Mrs May had made clear in a speech at Blenheim Palace on Thursday that she welcomed the Trump-Putin meeting, stating that "open channels of communication between the US and Russia are a key to managing the risks of confrontation".
Asked whether Mrs May had urged Mr Trump to raise the Salisbury attack with Mr Putin, the PM's spokesman said: "The US position has been set out very clearly by the president with relation to the Skripals.
"I don't know what he will be discussing today, but he and the Prime Minister both have an agreed position on this.
"They discussed the Skripal case and the ongoing situation in Salisbury, but she didn't direct the president to do anything in particular because the position the US has set out on this is very, very clear and the president couldn't have been clearer in public about who he believes is responsible and the action that they have taken."
He said that Russia is a foe "in certain respects" and that China is a foe "economically … but that doesn't mean they are bad. It doesn't mean anything. It means that they are competitive".
In response, Mrs May's spokesman said: "We have said before that it is important we engage in constructive dialogue to find the right way forward when it comes to the disagreement currently taking place on tariffs."
Mr Trump also told ITV's Good Morning Britain that Mrs May should seek a "carve out" in any Brexit deal with the EU which would allow the UK to secure a trade agreement with the US.
"I think we're going to have a great trade deal," Mr Trump told interviewer Piers Morgan.
"I really have no doubt about it, we're going to get it.
"Now, if they do whatever they do, they have to… I said, make sure that you have a carve-out.
"You know, I've called it a carve-out for this.
"You have to have a carve-out where no matter what happens they have the right to make a deal with the United States."