The coroner in charge of inquests into the 1974 Birmingham pub bombings will begin an appeal against a High Court ruling on the scope of the hearings.
Two High Court judges quashed a decision by Sir Peter Thornton QC to exclude the issue of the perpetrators of the bombings from the new hearings, following a judicial review brought by bereaved families.
Giving the court's ruling in Birmingham in January, Mrs Justice Carr said: "We are minded to quash the coroner's decision which excluded the perpetrator issue and remit the case so as to enable him to reconsider the decision."
Court of Appeal judges will hear Sir Peter's challenge to that ruling on Tuesday.
The bombings in two city centre pubs, widely believed to be the work of the IRA, killed 21 people and injured 182 – making it the deadliest peacetime attack in the UK at the time.
The coroner previously said he wants the court to rule on the "vital" issue to avoid delay and uncertainty in the future.
A spokesman for the inquests said in January: "The coroner has considered carefully the High Court judgment… on the scope of the inquests.
"The judgment concerns the extent to which these inquests, which are not criminal proceedings, can investigate and seek to identify those individuals who were responsible for the tragic events in Birmingham 43 years ago.
"This is a complex matter about the purpose of an inquest and the approach of a coroner to setting the boundaries of his, or her, investigation.
"The questions raised by the judgment are vital to the inquests into the deaths of the 21 people who died as a result of the bombings and are also of general public importance."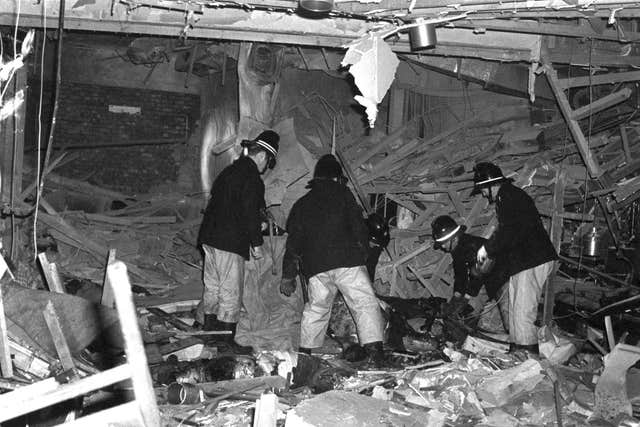 Spokeswoman for the victims' campaign group Justice4the21, Julie Hambleton, said the inquest proceedings would be "redundant" if they did not explore the issue of the perpetrators.
Mrs Hambleton, whose sister Maxine was 18 when she was killed in the bombings, said: "We just hope that common sense prevails.
"It will be utterly redundant to have the inquests unless the perpetrators, their associates and those who prepared and planted the bombs are included."
Mrs Hambleton, who will travel to London with other victims' families on Tuesday, said supporters have so far raised £75,000 for the case after the campaign group was refused legal aid.
Justice4the21 held a demonstration outside of the Royal Courts of Justice in London in February, supported by members of the Football Lads Alliance.
Six men, known as the Birmingham Six, were imprisoned for the murders and served 17 years behind bars in one of Britain's most infamous miscarriages of justice before their convictions were quashed.
Five West Midlands Police officers were charged with perverting the course of justice in connection with the original criminal investigation, but a judge ruled in 1993 that a fair trial would be impossible.