A ban on flammable cladding for new high-rise buildings being considered by the Government in the wake of the Grenfell Tower tragedy does not go far enough, a Commons committee has warned.
Combustible materials must be urgently outlawed in all existing tower blocks and other high risk buildings, such as residential homes, hospitals, student accommodation and hotels, MPs said.
Ministers were also told to introduce immediate reforms to complex building safety rules "before more lives are lost".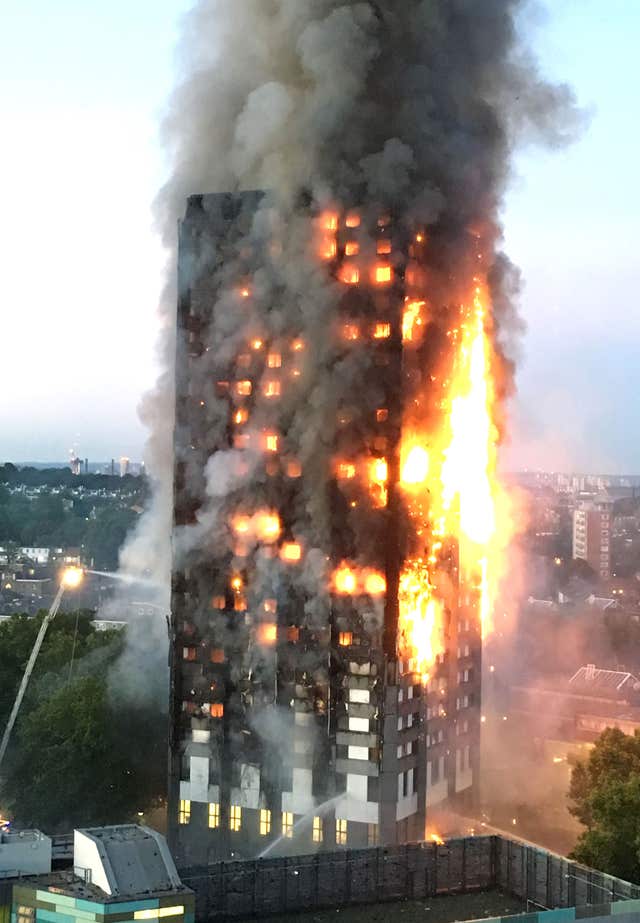 Sprinklers should be retro-fitted to existing high-rise residential buildings where possible, the Housing, Communities and Local Government Committee also recommended.
Chairman Clive Betts said: "We are now more than a year on from the catastrophic events at Grenfell Tower, yet despite an independent review of building regulations, we are still no closer to having a system that inspires confidence that residents can be safe and secure in their homes.
"We agree with the independent review that there is a need for a fundamental change of culture in the construction industry, but there are also measures that can and should be introduced now.
"We welcome the intention of the Government to ban combustible cladding, but the proposals do not go far enough.
"A ban on dangerous cladding must be extended beyond new high-rise constructions, to existing residential buildings as well as other high-risk buildings."
Some 72 people died as a result of the blaze at Grenfell Tower on June 14 last year.
Ministers announced a consultation on banning flammable cladding for high-rise buildings hours after a review of building regulations by Dame Judith Hackitt in May was branded a whitewash when it failed to make such a recommendation.
The committee said it was "disappointing" the review had not addressed the short-term changes that needed to be made to building regulations, adding: "In this specific respect, we believe the Independent Review did not fully meet the requirement in its terms of reference to reassure residents that their homes are, or will be made, safe."
MPs demanded an urgent review of guidance and called for an updated version to be published by the end of the year.
They said the complex web of industry rules was "compromising safety and putting people at risk in their own homes".
MPs said a more effective fire testing regime should be introduced that reflects real-world conditions.
They called for an immediate ban on Fire Rescue Authorities that have set up commercial trading arms to provide safety advice from assessing their own work, warning there is a "clear conflict of interest".
Mr Betts said the industry is "riven with conflicts of interest at every turn".
He added: "It just cannot be right that builders get to choose who marks their homework and urgent action is needed to make sure this does not continue.
"Fire Rescue Authorities should not be able to pass judgment on the work of their own commercial trading arms.
"The current complicated web of building regulations is compromising safety and putting people at risk in their own homes.
"It desperately needs both simplifying and strengthening and the Government must act now before more lives are lost."
Lord Porter, Local Government Association Chairman, said: "The evidence from real fires in real tower blocks shows that using combustible materials on the external walls of high-rise buildings kills people.
"We continue to strongly urge the Government to ban the use of any combustible materials – including cladding panels, insulation and other materials – on the external walls of high-rise and high-risk buildings."
A Ministry of Housing, Communities and Local Government spokesman said: "There is nothing more important than keeping people safe in their own homes and we agree fundamental reform of the regulatory system is needed.
"That is why we are acting quickly, including consulting on banning the use of combustible materials on high-rise residential buildings, and plans for changing the law to achieve meaningful and lasting reform of the building regulatory system, with strong sanctions for those who fail to comply and restructuring building regulations fire safety guidance to ensure it is clear.
"In addition we are making £400 million available to fund the removal of unsafe cladding on high rise social residential buildings owned by local authorities and housing associations and have announced a package of measures to drive forward swifter action in the private sector."