Nelson Mandela's former Robben Island prison mate has praised the Duke and Duchess of Sussex's visit to an exhibition about his friend – saying it shows the monarchy supported their "struggle for freedom".
Andrew Mlangeni, 93, joked he would not wash his hand for a month after meeting Meghan and Harry, who said they were "absolutely thrilled" to be invited to the launch of the attraction chronicling the life of the former South African president.
Doreen Lawrence, now a peer in the House of Lords, was among the invited guests as was Mr Mandela's granddaughter Zamaswazi Dlamini-Mandela, who said the royal visit would attract a younger generation to learn more about her grandfather.
When asked about the importance of members of the monarchy visiting the exhibition, Mr Mlangeni, who was imprisoned by the apartheid regime on the notorious Robben Island, replied: "Shows somewhere in their hearts they were behind the struggle for freedom."
He added, laughing: "When I shook their hands I said for the whole month I'm not going to wash my hand – I never thought I would meet royalty."
Harry and Meghan toured the exhibition that brings Mr Mandela's life and activism alive with striking black and white photographs from the period, along with artefacts and documents helping to tell the story.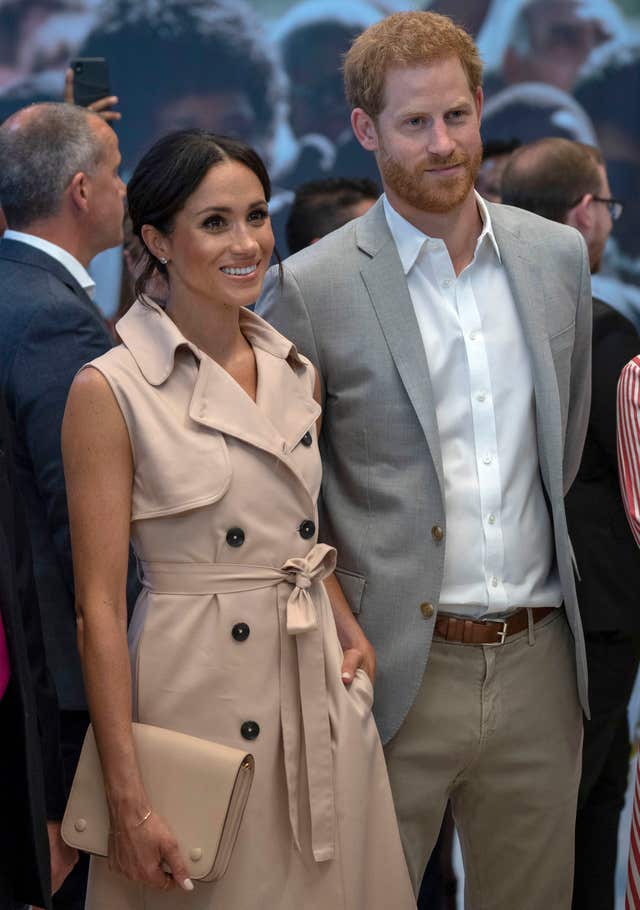 He served 27 years in prison, split between Robben Island, Pollsmoor Prison, and Victor Verster Prison.
Amid growing domestic and international pressure as well as increased fears of a racial civil war, then-president FW de Klerk released him in 1990.
During their visit, Harry and Meghan – who wore an outfit by House of Nonie – were shown a Complete Works Of Shakespeare that became a prized possession among the Robben Island prisoners, and many signed their names alongside their favourite verse.
Mr Mandela, who was born 100 years ago this year, chose a quote from Julius Caesar which began: "Cowards die many times before their deaths; the valiant never taste of death but once."
The duke and duchess also chatted to the statesman's friend and political ally Paul Joseph and his wife Adelaide during their tour of the exhibition at the Southbank Centre's Queen Elizabeth Hall.
After the tour, leading former anti-apartheid campaigner Lord Peter Hain, who is chair of the Nelson Mandela Centenary Exhibition, contrasted the Queen's relationship with the former statesman with US president Donald Trump, who met the monarch last Friday.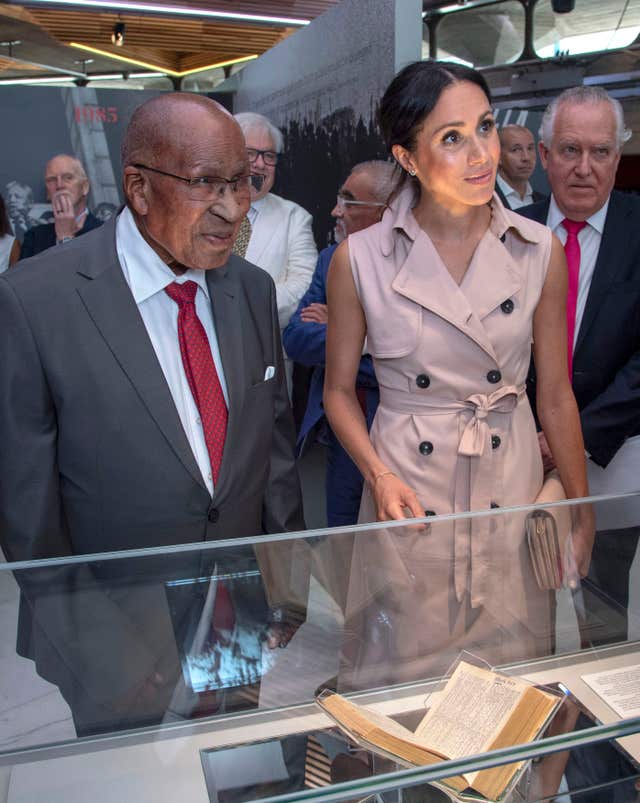 "And during his 90th birthday party celebrated here in London, Her Majesty the Queen phoned Nelson Mandela in the middle of his party and he was handed the phone and said: 'Hello Elizabeth, how's the duke?'
"After which his wife Graca Machel scolded him, saying: 'You cannot refer to Her Majesty the Queen on first name terms,' to which he replied: 'But she calls me Nelson.'"
Lord Hain said later they had invited the royal couple as the statesman was one of Meghan's heroes and Harry had charitable interests in southern Africa through his organisation Sentebale, which helps disadvantaged young people and youngsters living with HIV.
The duke has also visited a number of sites associated with Mr Mandela, from his Robben Island prison cell in 2008, where he was imprisoned for 18 years, to a tour of the statesman's offices, where he met his widow, Ms Machel, in 2015.
Ms Dlamini-Mandela said: "Today's event is hugely significant – not only because we are here to celebrate the life of a great man in history, but also because we are able to educate the next generation, that we must never repeat the mistakes of the past.
"The visit of their royal highnesses Harry and Meghan is a great honour. Their support for justice and fairness in the world makes them a shining example for the youth of today and tomorrow."
Lord Hain said after the visit: "They were absolutely thrilled to be here and they said so, they used that term.
"They were so engaged, I think both know a lot about the history of Nelson Mandela, but when you come to something like this you understand what he went through."