A "colony" of super-sized bee sculptures will go on display in Manchester throughout the summer in a public art trail.
The city's worker bee symbol, a nod to its industrial heritage, came to worldwide recognition as people united in the wake of last May's Manchester Arena suicide bombing.
Sculptures include a Rock 'N' Roll Bee designed in partnership with ex-Oasis star Liam Gallagher, a Hac-Bee-Enda bee celebrating the city's legendary nightclub, a bee honouring one of TV soap Coronation Street's most iconic characters, Hilda Bugden, plus footballing tributes to Manchester's famous clubs Bee United and Mike Summer-Bee.
The Bee Live in MCR sculpture features signatures from the Rolling Stones, Ed Sheeran and Taylor Swift, while the I Wanna Bee Adored sculpture is signed by Stone Roses bassist Gary "Mani" Mountfield.
Sally-Ann Wilkinson, director of organisers Wild in Art, said: "Bee In The City is a celebration of Manchester's diversity, creativity and culture.
"Each individual Bee represents our fantastic city's many achievements, from its legendary music scene to scientific discoveries and industrial heritage.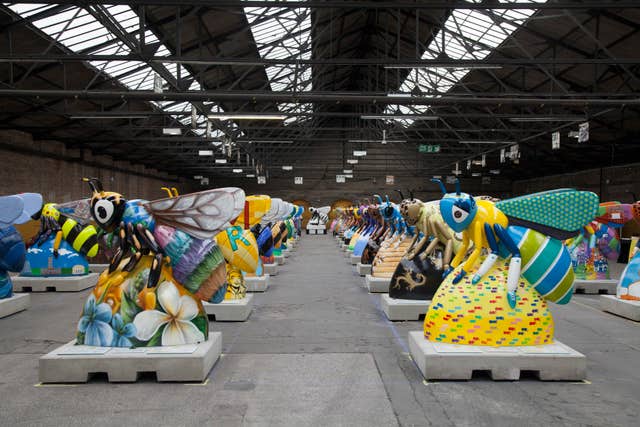 "Different sectors have collaborated to create this fabulous event, including the public and private sectors, schools and community groups.
"As well as a celebration of creativity, the trail is also a celebration of unity."
Councillor Luthfur Rahman, Manchester City Council's executive member of schools, culture and leisure, said: "The council is delighted to support Bee In The City and would like to congratulate everyone who has taken part and contributed to this extraordinary event. Manchester is known the world over for its innovation and creativity and it's great to see this in action.
"The trail and its associated activities are free of charge, accessible, and provide plenty of opportunities for people to get involved. 
"The event also has an important part to play in helping ensure the health and well-being of all those who follow the trail and is set to give hours of entertainment to thousands of residents and visitors this summer."
The sculptures will later be auctioned to raise funds for The Lord Mayor of Manchester's charity , We Love MCR Charity, which aims to improve the lives and life chances of Manchester people.