The DUP's Ian Paisley begged his constituents to retain confidence in him during an emotional Commons apology for a major breach of parliamentary rules.
The North Antrim MP has faced calls to quit and the prospect of a by-election after a parliamentary watchdog recommended he be suspended from the Commons for 30 days for failing to register two family holidays funded by the Sri Lankan government.
Mr Paisley said it was with "profound personal regret and deep personal embarrassment" that he had to make a statement as he acknowledged he failed to declare and register the two trips.
His voice cracked with emotion as he told the Commons: "I say sorry and apologise for the failings that were identified in the Standards Committee report."
Mr Paisley said his constituents have given him "unwavering support" since 2010, adding: "I hope they will continue to have that confidence in me in the future."
The report said the cost of the hospitality may have been "significantly more" than Mr Paisley's £50,000 estimate, with the holidays including business-class air travel, accommodation at first-class hotels and more for him and his wider family.
The trips also included meeting with Sri Lankan governmental figures. The threshold for registering such hospitality in 2013 was around £660.
In March 2014, Mr Paisley lobbied against a proposed United Nations resolution to investigate human rights abuse allegations aimed at Sri Lanka, with the committee noting that the financial benefits were not declared in his letter to then prime minister David Cameron.
Mr Paisley said he was disappointed that he could not persuade the committee about the strength of his arguments and mitigation, including on paid advocacy, adding that he accepted the report although said he did "regret" the sanctions.
He went on: "I take my duties as a Member of Parliament seriously.
"I believe I conduct myself with colleagues with integrity, with openness, and that is why I have such remorse about the matter as I believe it goes against the grain of who I am – especially how it is portrayed.
"It is to my constituents, who have sent me here since 2010, that I make the profoundest of all apologies.
"They have honoured me with unwavering support to be their voice and I hope they will continue to have that confidence in me in the future."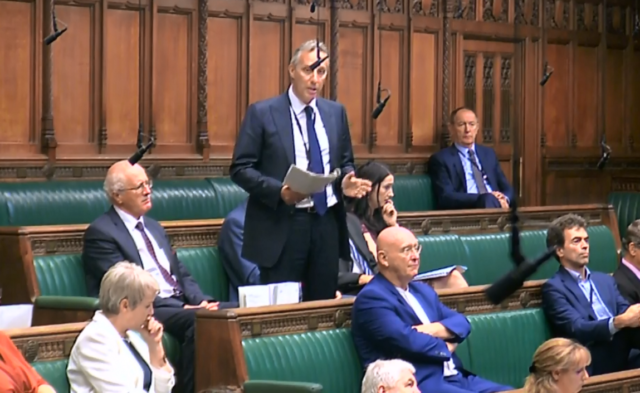 "It's often said it's how we respond to these challenges in our lives that defines who and what we are, and defines our character and demonstrates to us where the true source of our personal strength rests.
"The eighth-century prophet Isaiah said: 'You were angry with me, that anger has turned away, you comfort me.'
"I hope to learn that lesson."
Mr Paisley's potential suspension would start in September if MPs approve it.
Members who are suspended from the Commons for more than 10 days are open to a recall petition.
A by-election would be triggered if 10% of the electorate in Mr Paisley's North Antrim constituency sign that petition.
The suspension would also mean Prime Minister Theresa May will be shorn of one of the 10 DUP MPs propping up her minority government during a period that could see a number of crucial Brexit votes.