More than 40 children a day are being expelled and over 2,000 suspended from England's state schools, figures suggest.
Government statistics reveal a hike in permanent and fixed-period exclusions in the space of 12 months, an increase which is likely to spark fresh debate about behaviour in schools.
While persistent disruptive behaviour remains the most common reason for exclusion, there has also been a rise for other reasons including sexual misconduct, racial abuse and physical and verbal assault.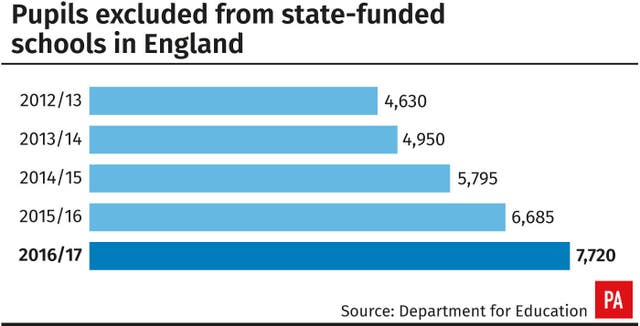 The Department for Education (DfE) recently launched a review of exclusions in schools.
School standards minister Nick Gibb said schools should only use permanent exclusions "as a last resort", but that the Government supports teachers who take "proportionate" steps to ensure good behaviour.
The DfE figures show that schoolchildren were expelled on 7,720 occasions in 2016/17 – up from 6,685 in 2015/16.
This is equivalent to 40.6 children a day.
Some 83% of permanent exclusions were in secondary schools.
This is equivalent to around 2,010 a day.
The most common reason for pupils being expelled and suspended was persistent disruptive behaviour, accounting for more than a third (35.7%) of permanent exclusions and 28.4% of fixed-period exclusions.
A breakdown also shows a rise in permanent and fixed-period exclusions for other reasons including verbal and physical assaults against other pupils and adults, sexual misconduct, racist abuse, drug and alcohol-related reasons and causing damage.
The figures show that pupils with special educational needs accounted for almost half of permanent exclusions (46.7%) and 44.9% of fixed-period exclusions.
Poorer pupils – those on free school meals – were around four times more likely to be excluded, permanently or temporarily, than their richer classmates.
Mr Gibb said: "Schools should only use permanent exclusions as a last resort but we do support teachers in taking proportionate and measured steps to ensure good behaviour in schools.
"Whilst we know there has been an increase in exclusions there are still fewer than the peak 10 years ago.
"We recognise some groups of pupils are more likely to be excluded than others, which is why we launched an externally led review to look at how schools are using exclusions and why certain groups are disproportionately affected."
Geoff Barton, general secretary of the Association of School and College Leaders, said: "We are extremely concerned that this increase in exclusions is a result of the school funding crisis and cuts to local children's services.
"Schools have had to cut back on the individual support they are able to give students, making it more difficult to provide early intervention and prevent behavioural problems from escalating.
"At the same time council support services for vulnerable families have been cut back, meaning that schools are having to pick up the pieces.
"Schools only exclude pupils as a last resort and when all other avenues have been exhausted. The Government needs to provide the funding that is necessary to provide support at an early stage."
Paul Whiteman, general secretary of the National Association of Head Teachers (NAHT), said: "This is an area where prevention is better than cure, but school budgets are at breaking point so many of the measures that schools take to ensure good behaviour and adequate support for pupils are under threat.
"We've seen cuts in local authority services such as behaviour support teams, combined with reductions in pastoral care. Speech and language therapists for pupils with additional needs are disappearing. In addition, there are frequently delays in providing mental health support for pupils who need it.
"Schools have also seen big cuts to high needs funding for pupils with identified special educational needs and disabilities (SEND)."
Last month, Ofsted chief Amanda Spielman signalled her support for schools that take a tough stance on unruly pupils.
"I fundamentally disagree with those who say that taking a tough stance on behaviour is unfair to children," she said.
"Quite the opposite, there is nothing kind about letting a few pupils spoil school for everyone else.
"And I think it's entirely appropriate to use sanctions, such as writing lines, 'community service' in the school grounds – such as picking up litter – and school detentions. And where they are part of a school's behaviour policy they'll have our full support."