Explorer Sir Ranulph Fiennes has been reunited with the cardiac surgeon who saved his life 15 years ago.
The 74-year-old, who left school without qualifications, received an honorary degree from the University of Bristol.
He met Professor Gianni Angelini, of the university, who pioneered the heart bypass technique used during the operation in 2003.
Prof Angelini treated Sir Ranulph with his "beating heart surgery" – allowing a bypass to be carried out while the heart is still beating – after he suffered a heart attack at Bristol Airport.
Speaking at the university, Sir Ranulph described the degree as a "great honour" and paid tribute to his surgeon.
"I must thank Gianni, the best cardiologist anywhere, who happens to be in Bristol. Because of his expertise, I'm still alive," Sir Ranulph said.
"Why I had a heart attack, I don't know. I remember nothing about it except waking up in hospital four days later and my wife told me that I'd had a double heart bypass."
Three months after the surgery, Sir Ranulph ran seven marathons in seven days, on all seven continents, to raise money for the British Heart Foundation.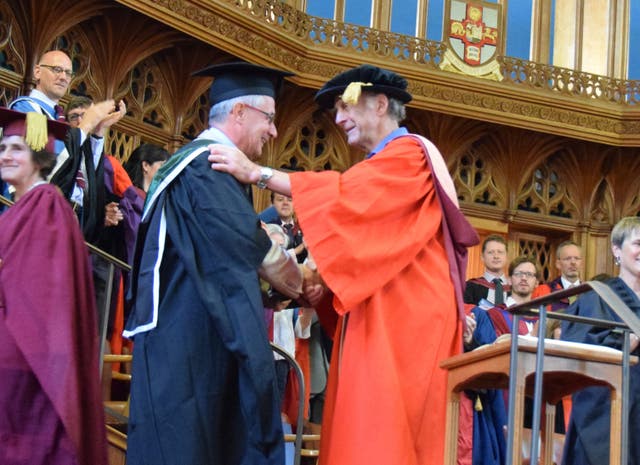 He became the oldest Briton to complete the gruelling Marathon des Sables in 2015, covering 151 miles in six days.
Money raised by Sir Ranulph for the British Heart Foundation helps to fund Prof Angelini's research at the Bristol Heart Institute.
The posts of Prof Angelini, and Prof Massimo Caputo, are funded by the charity.
Prof Angelini said: "Not only is Ranulph a world-famous adventurer and explorer who has pushed the limits of human endeavour and endurance, but he has raised over £20 million for charity.
"It's been fantastic to see him recover fully from the surgery some 15 years ago, going on to reach new heights and win many more accolades.
"His work to raise awareness of heart disease, as a research ambassador for the British Heart Foundation, is invaluable and I'm proud to say we've become good friends over the years.
"He's an inspiration to us all."
Sir Ranulph was born in 1944 and educated at Eton College. He served with the Royal Scots Grey before joining the SAS.
In 1968 he joined the army of the Sultan of Oman and was later awarded the Sultan's Bravery Medal by the Queen.
Since 1969, when he led the British expedition on the White Nile, Sir Ranulph has been at the forefront of many ground-breaking exploratory expeditions around the world.
He is the only man alive to have travelled around the Earth's circumpolar surface and the first explorer to completely cross the Antarctic continent unsupported.