Neighbours have described hearing three shots ring out in their street as a man was fatally wounded in a gun attack.
Police were initially called to a shooting in Valley Road, Wolverhampton, at 9.10pm on Friday.
Minutes later, West Midlands Police said it was made aware that an injured man, believed to be in his 20s, had been driven to New Cross Hospital, just a few hundred yards from the scene.
The victim was transferred but despite the best efforts of medics, died at Birmingham's Queen Elizabeth Hospital at around 2am.
A police cordon was in place at the scene, by a row of communal garages on a residential estate where dozens of young families live.
Stunned residents have spoken of their shock at the killing on their doorstep, saying that the victim had grown up in the area.
One woman, who lives just yards from the scene but declined to be named, said: "I heard three shots – bang, bang, bang.
"I said, that isn't a car back-firing.
"We just locked the doors, then a load of police turned up."
Bunches of flowers had been laid on a grass verge near the police cordon, and a candle had been lit.
A card inside one of the bouquets read: "Rip, big man.
"Sleep tight, until we meet again."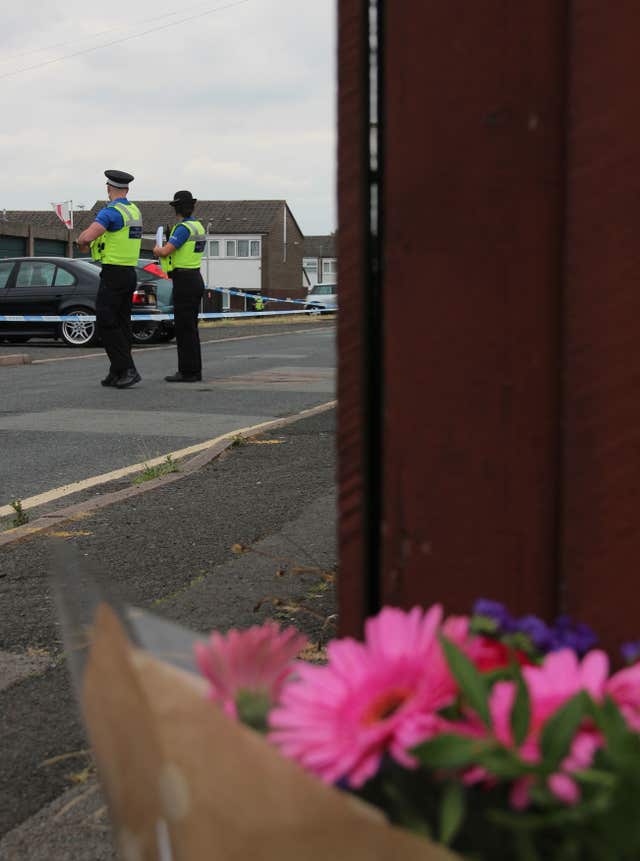 A neighbour, who declined to be named, said: "He used to live here with his mother but that was years ago, and I haven't seen him around here since then."
She said: "It's awful what has happened.
"I'm afraid they'll be repercussions from this, that's what scares me."
Police have said the murder investigation is in its early stages and detectives have been carrying out door-to-door inquiries in a bid to establish the circumstances of the attack.
A post-mortem is due to take place on Sunday, and the victim's family are being supported by specially-trained officers.
Meanwhile, extra uniformed officers and firearms teams will be patrolling the city's streets.
The shooting followed a gun attack at a pub in the city on July 14, which police have linked to gang violence.
In May, 15-year-old Keelan Wilson was stabbed to death just yards from his Wolverhampton home in an attack which shocked residents.
Chief Superintendent Jayne Meir, who heads policing in the city, said: "Our thoughts are with the family and friends of the victim, and they can be assured that we will work tirelessly to bring whoever was responsible for last night's shooting to justice.
"I fully understand that impact that this and other violent crimes that have happened in Wolverhampton in recent weeks have on the city and those who live and work here.
"It's too early to say if it is linked to any other incidents, and we are keeping an open mind.
"People can expect to see extra officers out on patrol around parts of the city over the next few days, and I'd urge anyone with concerns or information to stop and speak to them."