An Army officer has been jailed for 18 months after being convicted over the killing of a 21-year-old soldier who was shot during a training exercise.
Captain Jonathan Price, 32, was also dismissed from the Army after being found guilty last month of the manslaughter of Ranger Michael Maguire by gross negligence following a seven-week court martial at Bulford, Wiltshire.
Two other officers, Lieutenant Colonel Richard Bell, 46, and Warrant Officer Stuart Pankhurst, 40, were convicted of negligently performing a duty.
Col Bell lost one year's seniority as a lieutenant colonel, which could affect his promotion prospects, while WO2 Pankhurst was fined £3,000.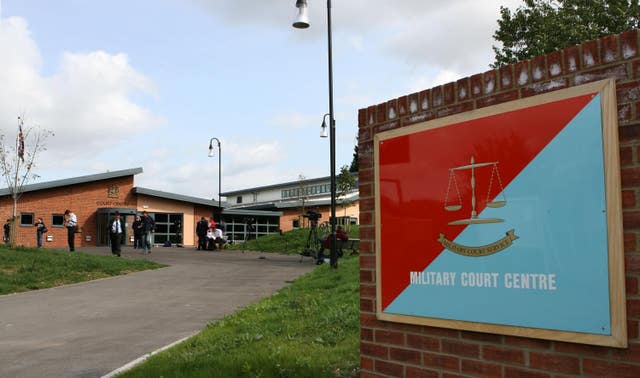 Rgr Maguire, from Co Cork, Ireland, died after being hit in the forehead by a stray bullet from a machine gun.
The three defendants were accused of having "a total disregard for the safety" of their men when they organised a live ammunition exercise ahead of deployment to Kenya.
After the shooting Capt Price, who was a lieutenant at the time, said to one witness: "I've messed up, haven't I?"
The court heard that soldiers on one part of range 10 were firing directly at those in another part of the range, who were about 1km away and would have been visible.
Capt Price, now of the 2nd Battalion, Royal Irish, failed to set up and supervise a safe exercise, failed to attend a recce of the range when preparing a range action safety plan (Rasp), placed targets too close together and failed to "deconflict" the two exercises.
Col Bell, who was then a major and Capt Price's company commander, was the senior planning officer for the exercise and failed to review or counter-sign the Rasp produced by Capt Price and failed to supervise or support him.
WO Pankhurst, who was an acting sergeant supervising the exercise, failed to produce a Rasp for the machine gun firing which he was supervising.
It emerged after the convictions that the Ministry of Defence has received a Crown Censure for breaches of health and safety regulations.
Mathew Sherratt QC, representing Capt Price, said he had recently married and had a 10-year-old stepson and urged the court to impose a suspended sentence.
"It was his dream to be in the regiment. He accepts that is finished and that is huge punishment," he said.
"The punishment of the loss of his career is devastating for this young man. I suggest that if he could ever turn the clock back he would and he should have gone to get some help."
Mr Sherratt said there were "systemic issues" in the Army and there had been changes to procedures after the death of Rgr Maguire.
Puneet Rai, representing married father-of-two Col Bell, said he was on the reserve list to be promoted to full colonel and a recent posting had been withdrawn as a result of the conviction.
"It is accepted by the Ministry of Defence that there were failings in the system which contributed to where we are today," she said.
"Since the day of this incident Col Bell has made it his personal crusade to make sure that the failings within the system are challenged."
Catherine Bradshaw, representing married father-of-three WO2 Pankhurst, said that any loss of rank would be particularly hard on him and suggested should receive a reprimand and fine.
"For WO2 Pankhurst, who joined the Army with the aspiration of becoming regimental sergeant major of his local regiment, not to have the coveted position of sergeant major comes as a blow to him," she added.
Passing sentence on behalf of the court martial board, Assistant Judge Advocate General Alan Large said Capt Price's negligence was so great that only an immediate custodial sentence was appropriate.
"We have no doubt that the offence of gross negligence manslaughter committed in the circumstances of this case and after a contested trial are so serious that an immediate prison sentence is required," he said.
The judge said the board had reduced the sentence from a starting point of four years after taking into account Capt Price's exemplary service to the country, including a tour to Afghanistan.
"Taking into account all the mitigation, imprisonment for 18 months is the shortest sentence we can pass. We do not consider it appropriate to suspend the sentence."