The Prince of Wales has been looking a gift horse in the mouth as he unveiled a new equine hospital.
He also donned a rubber glove and carried out an ultrasound on a horse which once rode in the same hunts as the royal visitor.
Charles listened with interest as he was taken through the finer points of horse dentistry, assisted by a chestnut, six-year-old Lenny, at Pool House Vet's Equine Clinic, Staffordshire.
He was told horse fillings need between eight and 16 times the amount of filling material as a human, for a cavity.
There were grimaces all around the room when he was told that pulling a horse's tooth can take up to two hours.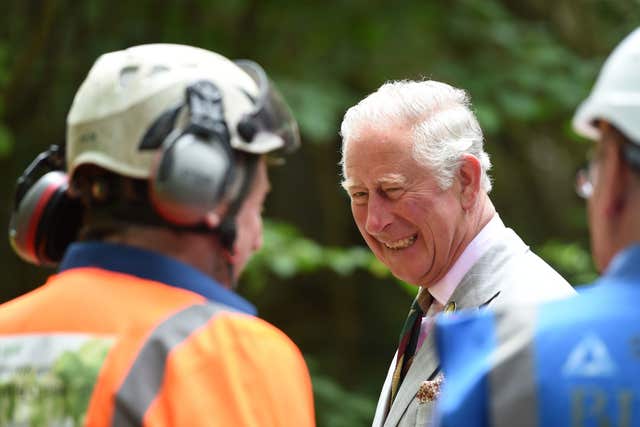 Lenny stood quietly while the royal visitor looked at the ultrasound image of his foreleg on the monitor, and Charles said: "He's been very patient for a horse – you haven't tranquillised him have you?"
After touring surgical theatres and stables, he unveiled a plaque and was presented with an ornamental gift by Annie and Martha Withers, aged five and three, the daughters of the clinic's medical director.
Charles also bumped into another old friend, former champion showjumper and huntsman David Barker, at the site in Fradley, near Lichfield.
The 83-year-old first met the prince as a boy at Arundel when the British showjumping team was practising for the 1960 Olympic games.
Mr Barker – a "straight-talker", in his own words, and lifelong farmer – exchanged good-natured humour with the prince.
At one point, Charles pointed at his former hunting companion's wine glass and said: "Keep drinking that stuff, it might help."
Earlier, the prince learned about work to model how forests could help tackle climate change.
He was visiting the University of Birmingham's Institute of Forest Research (BIFoR) Free-Air Carbon Dioxide Enrichment (FACE) experiment.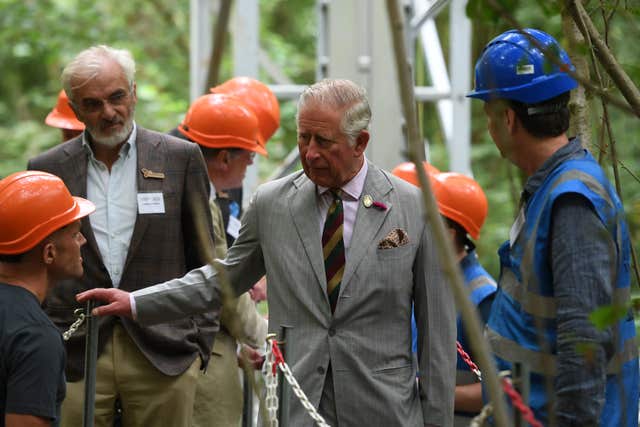 The outdoor facility is made up of 80ft-90ft gantry towers in the oak forest.
Unveiling a plaque made of planed oak, he quipped: "You're not going to put it at the top of the tree are you?"
Carbon dioxide is pumped through large pipe workings, up into the canopy and measured at ground and leaf level.
It is aimed at modelling the effect of CO2 levels based on assumptions of levels in 2050, and using that data to help understand climate changes and what forests might be able to do to help.
He was presented with a gift from the university – an engraved bottle found in the forest during construction, which was filled with air from the forest at its predicted CO2 level in 2050.
Accepting the present, he joked with the scientists, researchers and dignitaries: "I'll be 102 by then."
The idea behind the experiment is to allow scientists to work out how much carbon dioxide – a key driver in climate change – forests can take out of the atmosphere.
Professor Michael Tausz, experiment director, said the facility was "massively important" to understanding and accurately modelling climate change.
He added Charles's visit was "very important".
"He has such a high profile and can tell people about what we are doing here," he said.
Charles also sat down with Action Oak campaigners who are working to protect the nation's oak trees from pests and diseases.