Members of the public have been urged to avoid "careless and reckless" behaviour during the ongoing heatwave as emergency services across the country deal with a high number of field fires.
In London, where fire crews have already attended six times as many large grass fires this year compared to the whole of 2017, over 260 firefighters were forced to deal with blazes on Monday night.
Tom George, deputy commissioner and director of operations for London Fire Brigade, said the force was "fed up of politely asking people to take care", as temperatures threaten to rise to a UK all-time record of 38.5C (101.3F).
He said: "There hasn't been any rain for several weeks and I've never seen London looking so parched. All it takes is one act of stupidity and the whole lot can go up in minutes."
The force also claimed that "careless and reckless members of the public are putting lives at risk", and encouraged people to take extra care with cigarettes and barbecues.
South Yorkshire fire teams experienced over 500 calls between Monday and Wednesday morning, one of which was a vast grass fire in Denaby, Doncaster, which had to be put out using two 5,000 litre water bowsers.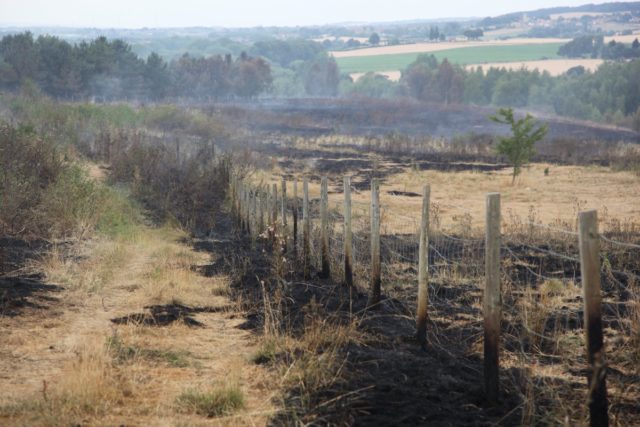 Similarly, the West Midlands has experienced a "higher than expected" number of call-outs, with fire crews being called to 479 outdoor fires between June 20 and July 1, up from 301 during the same period in 2017.
With scorching temperatures expected to continue over coming weeks, emergency services have been providing extra safety advice in a bid to stave off more blazes.
Tony Carlin, from South Yorkshire Fire and Rescue Service, said crews were providing a "fantastic service", adding: "With the forecast set to remain warm and dry for several weeks, we really need people to help us, help them by taking some basic precautions to prevent fires.
"For example, take rubbish with you if you are out and about in the countryside as glass bottles and cigarette ends can easily start fires."
Malcolm Stevenson, a spokesman for Shropshire Fire and Rescue Service, warned that a severe lack of rain had left his and many other counties resembling "tinder boxes", meaning that fires could easily start without due care.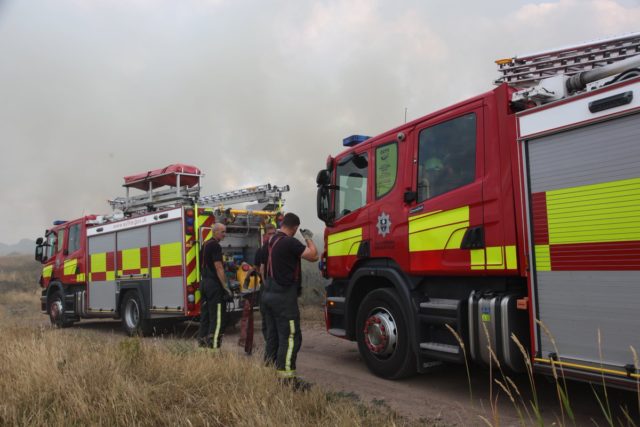 "Obviously we are aware that people want to go out and enjoy the sunshine and, in general, the public have been fantastic, but there are a few things to bear in mind, as it doesn't take much at all for a fire to start.
"We would particularly urge people not to light portable barbecues or camp fires in these vast spaces, because it's so unpredictable at the moment."
London Fire Brigade's own tips for preventing grass fires are:
– Dispose of smoking materials such as cigarettes and matches safely
– Never leave camp fires or barbecues unattended and extinguish them properly after you have finished using them
– Clear away bottles, glasses and any broken glass to avoid them magnifying the sun and starting a fire
– Explain to children the dangers of playing with and lighting fires